Canberra's Sam Williams says he doesn't regret being thrown into the NRL's deep end as a rookie teenage halfback, but says he's returned to the Raiders to prove himself as a better player and to win back a starting role.
Williams will relaunch his Raiders career at this weekend's Auckland Nines, admitting the positional rivalry between him and halfback teammate Mitch Cornish has driven him in the pre-season.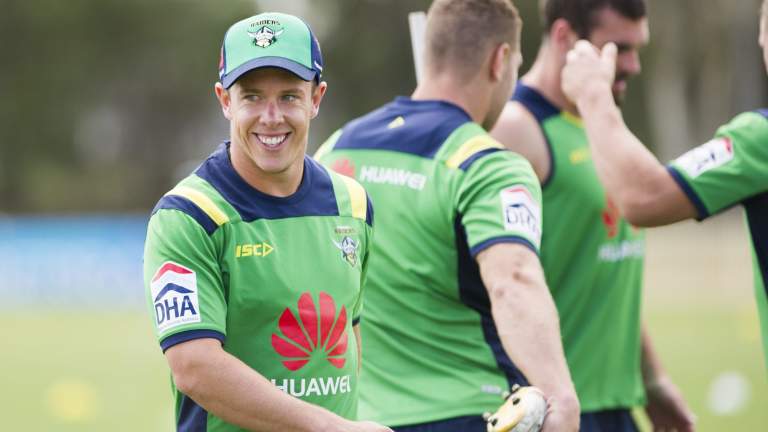 Trial form is likely to determine whether Williams or Cornish partners new Raiders five-eighth Blake Austin at the start of the NRL season, in what will be a raw halves combination.
But Williams has already played 46 NRL games, more than Austin (34 games) and Cornish (8) combined, and the 23-year-old is convinced his best is yet to come.
While Raiders coach Ricky Stuart was patient with Cornish's development last year, bringing the 21-year-old through slowly for just eight matches, Williams was thrust into the NRL at 19 and played 18 matches in his 2011 rookie year.
In comparison, Australian halfback Daly Cherry-Evans was 22 before he made his NRL debut with Manly and had played 54 NRL games by the time he was Williams' age.
Williams also helped guide the Raiders to their last finals appearance, in 2012, and represented NSW Country origin in 2013.
"I don't think I was thrown in too early. Playing that much first grade in the first couple of years is always going to help your game," Williams said.
"But certainly the way Ricky brought Mitch in, we've seen it at a few different clubs. Daly Cherry-Evans was a bit the same: he spent a little bit of time in the Queensland Cup before coming back down and really cementing his spot.
"Sometimes in an ideal world [transitioning from U20s] you get that time in reserve grade and playing against men to give yourself a little more time, but the situation we were in [in 2011] we had a few injuries and it was one of those things, it was the best thing for the team. At that age you're never going to say no.
"You've got to learn to be patient. Sometimes early on you try to overplay your hand. You have that youthful exuberance and throw the footy around a bit. But you learn to control the game a little bit more the older you get and the more games you play.
"If you'd have asked me a few years ago if this is where I'd be at 23, I'd certainly be very happy. It's just about building on what I've done and making sure I'm improving. The experience I've had from playing in bigger games, and a couple of different clubs, it's only going to help. But there's still a long way to go and I hope I can keep improving over the next few years."
Williams admitted the past year had been a "whirlwind".
The Cooma and Raiders junior defected to the St George Illawarra Dragons, before being released mid-season to French club Catalans Dragons, leading them to the grand final-qualifier in the UK Super League.
Williams and Cornish were both Junior Australian Kangaroos representatives, but Williams said he hadn't returned to Canberra content to play a back-up role.
"There'd be no point being here if I didn't think I could win the [halfback] spot. Whether that's at the start of the season or different points throughout the season, I'm hoping to get an opportunity," Williams said.
"Mitch and I are really good mates, we push each other hard at training ... if you see Mitch do something well you want to try to do it better. It's only going to help us both, it's the best thing for the club and that's the environment you want to be playing in."
Chris Wilson is the sports editor at The Canberra Times.