Somewhere in Canberra are three footballers and one coach on the cusp of securing an opportunity to spend a week with the Central Coast Mariners.
The A-League club is in the capital before a double-header on Tuesday night against Capital Football select squads, from which three players and a coach will be chosen in the "capital draft" to spend a week with the Mariners.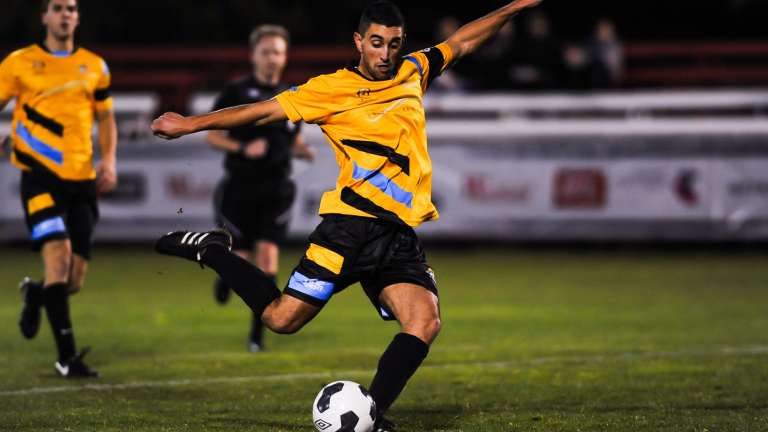 The North Region squad is made up of players from Canberra Olympic, Belconnen United, Gungahlin United and Woden-Weston.
It leaves the South Region squad with Canberra FC, Cooma, Monaro and Tuggeranong United, while Canberra United Academy players are split between the two sides.
Mariners player Matthew Fletcher is hopeful local football fans turn out in droves at Woden Park Enclosed as Central Coast look to find Canberra's next big thing.
"We love coming here to play [and] branch out the brand, and hopefully we can put on a good show," Fletcher said.
"[Canberra is] a big place with a lot of talent, so hopefully it gives a good opportunity for players to show what they've got."
Central Coast's squad took time out of their pre-season schedule to visit the War Memorial, an excursion that struck a chord with the club's A-League remembrance round ambassador.
"We complain on some days when we have a running session or something," Fletcher said.
"I heard today that there was a boy at 14 that was involved in the First World War. It does put everything into perspective.
"To live the way we do today, is thanks to them."
Fletcher, whose great-uncle served in Borneo, said visits to the War Memorial strengthen the club's ties with the nation's capital as the Mariners prepare to bring two games to Canberra Stadium this season.
"Every time I come back here you learn new things and appreciate it more," Fletcher said.
"It's humbling and ultimately the ultimate sacrifice our ancestors made for us to live in this great country. It really hits home on days like today when we get to go and visit the War Memorial."
The Mariners play Wellington in the remembrance round on November 12, before reigning champions Adelaide United come to town on February 5.
A-LEAGUE PRE-SEASON
Tuesday: Central Coast Mariners v Capital North Region Select
 at 6pm, Central Coast Mariners v Capital South Region Select
 at 7:45pm. Both games at Woden Park Enclosed
Capital Football North Region select squad:
Tim Bobolas, Ben Basser-Silk, Jeremy Habtemariam, Jordan Tsekenis (Canberra Olympic), Matty Grbesa, Aisosa Ihegie, Sam Smith, Dusty Wells (Belconnen United), Jack Green, David Jenkins, Regan Walsh (Gungahlin United), Ben Craig, Adam De Franchesci, Bradley Olivera (Woden-Weston FC), Niko Udjur, Joshua Gulevski, Sam Brown, Antoni Timotheou (Canberra United Academy). Coach: Luka Udjur
​Capital Football South Region select squad:
Marko Vrkic, Joseph Brown, Ross Costanzo (Canberra FC), Stephen Domenici, Nahuel Guerrero, Jakob Cole, Michael Kita, Hussain Fureje (Cooma Tigers), Daniel Felizzi, Tony Spaseki, Sam Roestbakken (Monaro Panthers), Nikos Kalfas, Andrew Slavich, Liam Highmore, Joshua Lagudah (Tuggeranong United), Daniel Subasic, Thomas Krklec, Niko Kresic (Canberra United Academy). Coach: Miro Trninic (Tuggeranong United), Asst. Coach: Steve Kunovec
Caden Helmers is a sports reporter for The Canberra Times