ACT government defends fairness of safer families levy for domestic violence package
The government has defended the fairness of using a flat $30 levy on all households, regardless of wealth, to fund its $21 million family violence package.
The ACT government's major response to family violence was announced in Tuesday's budget, winning praise from the sector, and overwhelming support from others, including the opposition and business groups.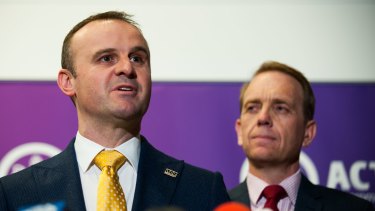 But questions have been raised about the way the government has funded the family violence response, introducing a new levy rather than using existing government revenue.
Tuesday's budget was used to announce a $30 per year safer families levy on all residential and rural properties from July. It would raise $19.1 million over four years.
The flat levy will apply to all households, except low-income public housing.
It means a home owner struggling to make ends meet will pay the same $30 as wealthy families.
The safer families levy adds to a string of others on households, including the ambulance levy, victim services levy, and fire and emergency services levy.
The fire and emergency services levy includes a fixed charge of $252 – after a rise of $10 in Tuesday's budget – and a valuation-based charge for commercial properties.
The ambulance levy is calculated on the number and type of private health insurance contributions.
Australian National University taxation expert John Passant, a former assistant commissioner of the Australian Taxation Office, questioned the approach of the safer families levy.
"I do have some problems with the way this tax is going to be imposed. It's a $30 per household levy, now this takes no account of the earnings of each household," he told ABC radio.
"So irrespective, for example, of the value of the property that each household has, we will all be paying $30.
"In other words it's a flat tax, rather than the fire and emergency services levy, which is a percentage of the value of the property that goes up into higher rates as the property increases in value.
"I wonder why that wasn't done."
But the ACT government has defended the use of the flat levy, saying it had adjusted other wealth-based charges to take it into account.
Chief Minister Andrew Barr said on Wednesday that the levy "protects the funding for the package", ensuring the money went directly to addressing family violence.
"The levy equates to 58 cents a week for a Canberra household," Mr Barr said.
"Fifty-eight cents that will support victims of family violence and reducing incidents of family violence in the community.
"Other wealth-based charges have been adjusted to take this new levy into account. Low income households in ACT public housing also don't pay the levy."
Mr Barr said the Victorian Royal Commission into Family Violence had recommended introducing a levy as a way of funding stronger responses to family violence.
Liberal Senator Zed Seselja also weighed in on the issue, saying the levy was unnecessary and the government could clearly fund it from existing revenue.
"Responding to family violence is a critical issue and on the face of it a number of measures that have been announced certainly have merit and I think are worthy of support," he said.
"I don't think the government needs to levy an extra tax in order to deliver on that. I do think it's core business for a government to be dealing with issues around family violence and domestic violence."
Christopher Knaus is a reporter for The Canberra Times.