ANU archaeologist finds world's oldest funeral fish hooks in Indonesia
Australian National University archaeologist, Sue O'Connor has uncovered the world's oldest known fish hooks placed in a burial.
Professor O'Connor, from the school of culture, history and language in the ANU College of Asia and the Pacific said the five fish hooks, found on Alor Island in Indonesia, were among items placed under the chin, and around the jaws of a female from the Pleistocene era, dating back 12,000 years.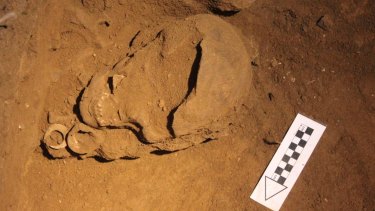 She said the discovery turned on its head the theory that most fishing activities on the island had been carried out by men.
"These are the oldest known fish hooks associated with mortuary practices from anywhere in the world and perhaps indicate that fishing equipment was viewed as essential for transition to the afterlife in this area," Professor O'Connor said.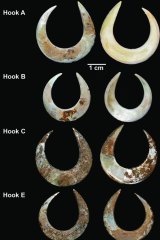 "The discovery shows that in both life and death, the Pleistocene inhabitants of the Alor Island region were intrinsically connected to the sea, and the association of the fish hooks with a burial denotes the cosmological status of fishing in this island environment."
She said the circular rotating hooks are thought to be made for use in deep-sea fishing, they were finely worked, indicating the individual buried with them was of high status.
"Archaeologists usually assume that the goods that people are buried with are viewed as necessary for their wellbeing in the afterlife," she said.
"We believe that the burial is a woman of mature age and therefore we think that women fished in the Pleistocene and that this individual was probably a fisherperson of high regard in an island community where fish were the mainstay of the diet."
Before this discovery, the earliest fish-hooks associated with a burial site date back about 9000 years and were found in a river environment of the Mesolithic era in Siberia, known as the Ershi cemetery.
Professor O'Connor's findings were published in the Cambridge University Press journal Antiquity.
Han Nguyen reports on property for The Canberra Times. She joined the Times in 2017 after working as a breaking news reporter at The Sydney Morning Herald.