ANU professor Des Ball who 'saved the world' honoured
An "insurgent intellectual" who has been credited with saving the world from nuclear annihilation has been given the Australian National University's highest honour.
Professor Des Ball was yesterday presented with the Peter Baume Award, recognising a career of global significance and an association with the ANU lasting nearly five decades.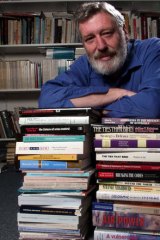 Professor Ball progressed from a prize-winning economics student who was arrested for climbing a statue of King George V during an anti-Vietnam War rally, to blowing the lid on the secret military facility at Pine Gap.
Despite his outspoken criticism of US Government policy, he was personally invited by American President Jimmy Carter to critique the US's nuclear defence plans during the Cold War – his analysis persuading the US that its plan to detonate selected Soviet targets would not work in practice.
At the end of last year, a book of essays honouring the iconoclastic scholar contained a contribution from President Carter saying Professor Ball had helped save the world from potential nuclear holocaust.
The book Insurgent Intellectual: Essays in Honour of Professor Desmond Ball" quoted Carter saying Ball's ''counsel and cautionary advice, based on deep research, made a great difference to our collective goal of avoiding nuclear war''.
ANU Chancellor Gareth Evans presented the award at a ceremony on Tuesday, describing Professor Ball as a "living national treasure".
"For almost half a century on this campus, Professor Desmond Ball has led the way in his unceasing efforts to understand the nature of defence and security," he said.
"In honouring him with the Peter Baume Award, the university's highest accolade, we pay tribute to one of Australia's greatest minds, a servant of the ideals to which we aspire."
The prize, the university's most prestigious accolade, is named after former Chancellor, Professor Hon Peter Baume and recognises academics whose "contributions to the economic, cultural, scientific or social development of Australia or the international community have demonstrated eminent achievement and merit of the highest degree."
Professor Ball noted that he had appeared to break the mould of the award going to physicists, chemists and mathematicians.
With trademark understatement, he said he supposed he had been in the running after "a pretty prolific career" but he did not expect the award and he felt honoured and proud.
"I've been at the ANU since 1965 when I was a student and I have been on staff since 1974."
The ANU also unveiled a $1.5 million endowment in Professor Ball's honour.
Established within the ANU Endowment for Excellence, the Ball Strategic Endowment will support future generations of academics who will devote themselves to the study of Australian defence, and the changing security dynamics of Asia and the Pacific.
Scholars from around the world will be based at the ANU for between three to six months each year.
The endowment has so far raised $150,000 towards the $1.5 million cost with the first chair to be appointed in 12 months.
During his remarkable career Professor Ball has worked on Australia's signal intelligence, exposed Australia's secret history of cracking diplomatic cables, and examined first-hand Southeast Asia's "shadow wars".
He's also spent much of his academic career being a "person of interest" for ASIO – an organisation for which he holds utter disdain.
"I don't believe I am a "person of interest" any more but I don't know for certain. If they were doing their job professionally I presume I wouldn't know but in the past they have been so unprofessional ... and they have a history of getting things fundamentally wrong."
Despite the lure of academic positions from some of the most prestigious universities in the world, Professor Ball agreed to stay at the ANU when they made him his own chair as Special Professor within the Strategic and Defence Studies Centre in the ANU College of Asia and the Pacific 25 years ago.
"How could I beat that?" he said.
Colleague and research fellow Dr Nick Farrelly said it was difficult to comprehend the full scope of influence Professor Ball had had on international strategic affairs over his career.
"What is so incredible is that he has crammed in five or six respectable academic careers into one – in strategic defence, strategic nuclear targeting, Australian defence policy, signals intelligence, not to mention the contribution to the study of Asia Pacific regional security architecture."
With no plans to slow down, Professor Ball is currently focussing on local level security issues in South East Asia, particularly the Thai/Myanmar border, which will be the subject of forthcoming publications.