Backyard Ashes battlers hit the big guys for six
A low-budget Australian film championing the underdog captured the attention of Canberrans on Thursday evening, with crowds queuing to catch its local premiere.
Actor John Wood was among the cast who turned out to the first Canberra screening of Backyard Ashes at Limelight Cinemas in Tuggeranong.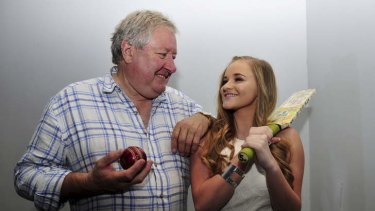 Filmed in Wagga Wagga, it cost just $285,000 to shoot the independent comedy about backyard cricket and most of the funding came from people and businesses in the town.
Wood said Australian films often struggled to get traction with audiences because most local cinemas were more interested in showing big-budget Hollywood films.
But he said he hoped this film would win Canberran hearts.
''It think this film's got legs; it's very funny, it's very touching, it's got a lot going for it,'' he said.
Wood said Backyard Ashes was a film in the same vein as The Castle or The Dish.
''[It's] small battlers take on the big company and win; it's a very typical Australian story about the little man against the big world,'' he said.
Canberra schoolgirl Maddison Smith-Catlin made her feature film debut in Backyard Ashes as cricket-mad 12-year-old Kerri after an audition that involved a cricket match on a Sydney beach.
The 15-year-old said she was too young to remember Wood as Senior Sergeant Tom Croydon in Channel Seven's popular police drama Blue Heelers, but her mother had watched the show.
She spent about a month working on the shoot and said she enjoyed working with experienced actors. ''It was so much fun to be around everyone, and it didn't feel like work, it just felt like being in the backyard having fun every day,'' she said. Smith-Catlin said a group of family and friends had turned out for the premiere, but on Monday morning it would be back to school for the year. Wood will return to Canberra in a few weeks' time for the Canberra Area Theatre Awards, of which he is a patron.
Larissa Nicholson is a journalist at The Age.