Bald Archy works unveiled at Watson Arts Centre
The annual Bald Archy prize unveiled its satirical works at the Watson Arts Centre on Friday for the first stop of the exhibition's tour.
Featuring humorous portraits judged by a cockatoo named Maude, the exhibition was full of personality and entertainment.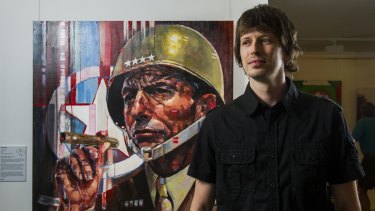 The Bald Archy Prize began in 1994 when director and founder Peter Batey held an arts festival in his home town Coolac.
"I decided to have an arts festival but I thought if I just call it that nobody will come," Mr Batey said.
"The Archibald prize was being particularly pompous at the time so I thought, 'well let's get them'."
Originally created as a ridicule of the renowned event, the Bald Archy Prize is now an iconic Australian art competition.
Now in its 22nd year, the competition has created a stir in the ACT with an unexpected number of local entries.
"There were 14 entries from Canberra and we've ended up with five locals who have made the finals, where in previous years there have only been about two local entries," Mr Batey said.
Canberra entrant Arthur Roman Piwko, who presented his work under the name Pik Pok, was one of the local artists.
Entering the competition for the first time, two of Pik Pok's artworks made the finals, one a portrait of Prime Minister Tony Abbott as a four star Yankee General.
"The painting is basically referring to Tony Abbott's opinions and the way in which he leads the government," Pik Pok said.
Val Johnson, also from Canberra, has been entering the Bald Archy prize since 2010.
"I love doing caricature and the Bald Archy Prize is a really fun thing to do, I enjoy painting for it," she said.
Mrs Johnson's work inspired by popular subject Jacqui Lambie gave a visual representation of remarks made by Lambie herself.
Canberra's Bob Townsend attends the Bald Archy annually and was one of the first visitors at the exhibition on Friday.
"I think the Bald Archy is a good irreverent look at our well-known personalities and politicians," Mr Townsend said.
The winner of the competition will be announced on July 25 in Sydney to coincide with the presentation of the Archibald prize on the same day.
The exhibition will be open daily at the Watson Arts Centre until March 8 before touring throughout eastern Australia.