Bitcoin not biting for Canberra commuters on ACTION buses
A failure by Canberra commuters to embrace alternative currency bitcoin has prompted the withdrawal of the payment option for an app for ACTION buses.
The team behind the MyBus 2.0 mobile application said it was confusion and lack of interest that doomed the option, not the market shift that halved the value of one bitcoin in the last six months of 2014.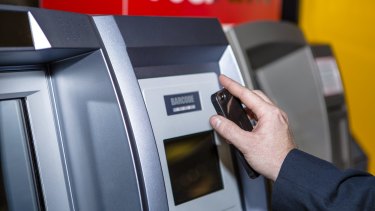 QPay software developer Zakaria Boughuettaya said there had been 23 bitcoin transactions through the mobile app in the nine months before the payment method was removed in January.
In the same period, there were 3226 non-bitcoin transactions.
"We realised it wasn't going to work. People were more confused about it and one of the biggest questions was, 'What is bitcoin?'" Mr Boughuettaya said.
It was a "quiet" withdrawal without many complaints, he said.
The MyBus app - a third-party application - had not allowed for an immediate transfer of funds, one of bitcoin's perceived advantages.
"If you have bitcoin you use it to get around the deficiencies of other payment systems, and you assume it's quicker than Bpay, and it wasn't," Mr Boughuettaya said.
An ACT government spokeswoman said MyBus 2.0 topped up MyWay card balances on behalf of their users, but was not developed or funded by ACTION and "was not affiliated in anyway".
Bitcoins are a virtual-based currency transferable through a digital wallet program installed on a person's computer or mobile device, which promise zero or minimal processing costs without the mediator of a bank.
Canberra's only bitcoin ATM was installed in July 2014 and the currency is accepted in some ACT cafes.
Despite apparent weak interest among Canberrans, a leader of the Australian digital currency movement said there were more than 1000 merchants, including recent adopter Webjet, which accepted it nationally.
Australian Digital Currency Commerce Association chairman Ron Tucker said Australians accounted for about 7 per cent of global bitcoin trading.
"It's not dissimilar to where the internet was in the early days. We're still in the 1993-94 stage of where the internet was," he said.
Mr Tucker acknowledged a ruling by the Australian Tax Office in August last year defining bitcoins as property or assets rather than a digital currency had been a deterrent for its acceptance.
He hoped a Senate inquiry report due in August would change the Australian government's approach.
"We're hopeful the Senate will say if it quacks like a duck and walks like a duck ..."
One bitcoin, worth more than $1200 in December 2013, was valued at about $670 in July 2014 and can be bought now for about $300.
Reporter at The Canberra Times