Canberra Enlighten festival visitor numbers double with Night Noodle Markets
The promise of noodles inside a glowing parliamentary triangle drew more than double the number of Canberrans and visitors to this year's Enlighten festival.
The after-dark mix of architectural projections, late night openings and roaming entertainment combined with the Fairfax Enlighten Night Noodle Markets attracted 287,874 people between February 27 and March 7 and injected $2.5 million into the ACT economy.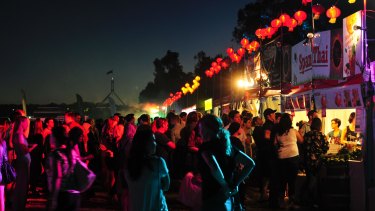 It's more than double the 131,556 who visited the 2014 event, bringing in $1.4 million, with Canberra's first noodle markets "exceeding all expectations", according to Chief Minister Andrew Barr.
Aside from projecting colourful and moving projections on some of the capital's most iconic buildings including Parliament House, the National Gallery of Australia and Questacon, this year's festival also featured the Australian premiers of Spanish aerial act Voala Station and floating light installation Voyage.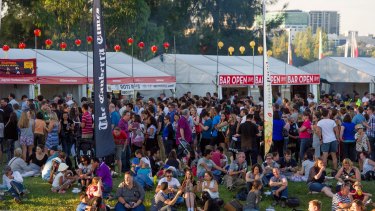 The 12-day event drew nearly double the number of interstate and international visitors, with 10,434 people travelling to Canberra compared to 5302 a year earlier.
The average visitor stayed in the capital for about two nights and spent an average of $175.29 each day, helping boost the ACT's gross territory product by $3.72 million.
The total direct visitor expenditure, a result of the people who visited Canberra specifically to see Enlighten, was $3.35 million, 45 per cent more than 2014's $2.3 million.
Chief Minister Andrew Barr said Canberrans should expect more noodles next year in light of sky-rocketing attendance figures.
"With this year's attendance at the Night Noodle Markets by far exceeding all expectations, the government is working hard to ensure that next year's noodle markets will be even bigger, providing more opportunities for local businesses to participate," he said.
"These are fantastic results for Enlighten in its fifth year, further demonstrating that bringing and hosting major events make a significant contribution to our diverse city, enhancing its reputation as a great place to live, work and visit."
It's a stark turnaround to the event's debut in 2011 which lost $2.4 million of taxpayers' money.
The ACT government gave away a quarter of a million dollars worth of tickets to boost 2011 crowd numbers. A third of festival fans scored entry under a two-for-one scheme, with almost 3000 tickets handed out for free.
By 2014 Mr Barr said Enlighten had cemented its position as an iconic Canberra event, breaking previous crowd records.
The Night Noodle Markets a part of Fairfax's Good Food Month and have drawn hundreds of thousands to events in Sydney, Melbourne, Brisbane and, for the first time this year, Canberra.
The markets are run by Fairfax, publisher of The Canberra Times; the ACT government invested $200,000 to bring the event to Canberra through its tourism body VisitCanberra.
Emma Kelly is Canberra Times reporter.