Canberra Indian Myna Action Group celebrates 10 years
Canberra is renowned for the diversity of its wild birds, but one species has made its mark in all the wrong ways.
The Indian myna has plagued the city since the late 1960s, threatening native and endangered wildlife while causing a nuisance in shopping centres and backyards.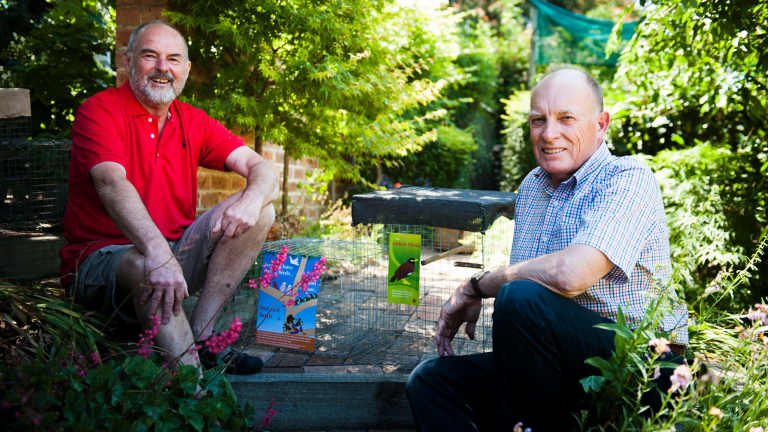 For the past decade, a band of residents across the city have taken it upon themselves to combat the growing myna population.
Members of the Canberra Indian Myna Action Group have developed a network of traps across the capital's backyards to catch the birds and have them euthanised with carbon monoxide from car exhaust.
Between their formation in 2006 and September this year, more than 2000 members trapped some 58,000 mynas.
The group liaises with the ACT government, the RSPCA and the Canberra Ornithologists Group to determine bird numbers and the best methods of reducing the population humanely.
Prisoners at the Alexander Maconochie Centre have built traps in the past, while ACT Corrective Services continues to collaborate with the action group.
President Bill Handke said the project was borne out of concern for native wildlife, especially birds whose nests were threatened by the pests.
Mynas harass native birds, possums and sugar gliders out of tree hollows, destroying leftover nests, eggs and hatchlings while creating room for their own chicks.
One breeding pair can raise up to three clutches of eight hatchlings each year, leading to an estimated population of up to 150,000 mynas across Canberra in 2006.
"When mynas competed with crimson rosellas for nesting hollows, mynas won out 50 per cent of the time, and when they competed with Eastern Rosellas, they won out nearly 100 per cent of the time," Mr Handke said.
Introduced in Victoria in the mid-1800s to combat insects, mynas have since spread across eastern Australia, adapting to numerous climates through hardiness and aggression.
Mynas were released into the wild in Forrest in 1968, and by 2005 had become the third-most common bird in Canberra gardens.
Their ranking has steadily fallen since then, falling back to become the 18th most common bird in the city.
Mr Handke said groups inspired by the Canberra members had sprung up across the east coast, while the local organisation has received awards and recognition from Keep Australia Beautiful.
"We've demonstrated that a broad-based 'community-action' approach can substantially reduce the numbers of the Indian Myna in a location," Mr Handke said.
"For it to work, we realised there needed to be easy, practical and low-cost activities, easy-to-operate traps and a low administration load."
The group will hold its annual general meeting on December 5, which will include a speech from Australian Museum ecological scientist Dr Richard Major about new research into mynas.
Stephen Jeffery is a producer at The Canberra Times