Canberra RSPCA chief executive Michael Linke resigns
Canberra's RSPCA boss Michael Linke quit his job on Monday, with the organisation mired in crisis.
In his eight years in the job as RSPCA ACT's chief executive, Mr Linke became Canberra's highest-profile animal welfare advocate, weighing into controversies such as the fireworks ban and the government's kangaroo cull.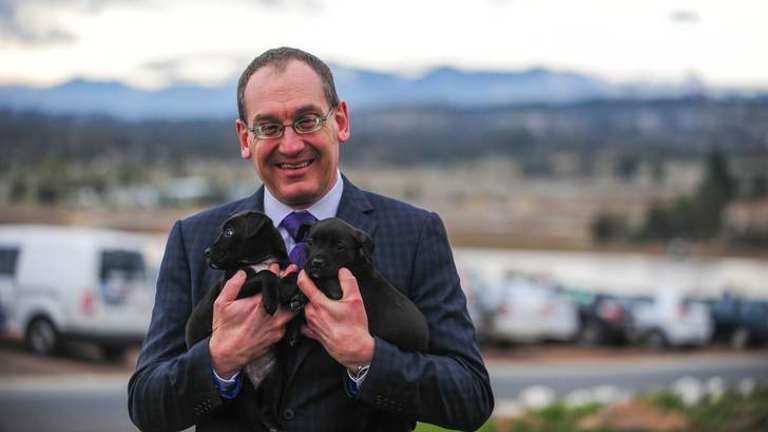 But all has not been well behind the scenes at the Weston Creek HQ and animal shelter in recent months, with the RSPCA's governing board forced to call in investigators to look into complaints by nine workers about underpayment, staff welfare and management style.
Animal welfare executive manager Glenn Howie remains suspended after publicly accusing Mr Linke of animal cruelty for concreting a group of rabbit warrens from RSPCA land in August and challenging the chief executive over other workplace issues. An ACT government inspection found last month there was no cruelty when the rabbit holes were filled in with concrete slurry.
Responding to reports of complaints from within the organisation on Tuesday, Mr Linke said only a small number of staff were disgruntled.
"You can't keep everybody happy all the time," he said.
"My job isn't to keep everybody happy all the time, my job is to engage with our staff force and make sure that we rescue and save animals and get animals back into homes."
Mr Linke did not respond to requests for an interview on Monday. He also did not respond at the weekend to a series of questions from The Canberra Times about workforce issues at the RSPCA.
Speaking to ABC Radio ahead of a five-week holiday in the United States, Mr Linke said no serious concerns had been raised with him while at the helm of the organisation.
"The staff to me are very motivated, very positive, you know it's a really engaging, enjoyable workforce," he said.
"I think when people listen to this and when people read The Canberra Times, they need to understand that these people are in effect damaging the legacy that I've left of saving lives and raising $35 million and actually damaging animals. They're the losers in this debate."
It is believed he will be replaced by George Costi, an official with RSPCA Queensland.
My job isn't to keep everybody happy all the time, my job is to engage with our staff force and make sure that we rescue and save animals and get animals back into homes.
RSPCA ACT's governing council has confirmed an external investigator has been brought in to consider the claims made against Mr Howie - who maintains he has done nothing wrong - and concerns raised by nine other workers.
The employees - a sixth of the workforce - have approached their union, United Voice, with written complaints about their workplace.
The union's ACT branch secretary, Lyndal Ryan, said Mr Howie had acted as a conduit for discontent.
''He's certainly not alone in his concerns, he just ended up being a champion for other people,'' Ms Ryan said.
RSPCA ACT council member Kasy Chambers said on Monday that Mr Linke's decision to leave was not
connected to the staff problems and he had raised the possibility of resigning as long ago as May.
Ms Chambers said she would not comment on human resources matters but said the investigations would be conducted ''by the book''.
The Canberra Times has spoken in recent weeks to a number of staff members who have left the organisation this year, complaining of underpayment and concerns about staff welfare on the ageing Weston Creek site.
Dr Jackie Reed, a vet in the society's wildlife section for nearly 12 months until January, said staff were often left for months on end to work well above their contracted role.
The vet's comments are supported by another former staff member, who asked not to be named, who said she reluctantly resigned earlier this year after the rejection of a pay-rise claim to reflect the role she had been filling.
The ex-staffer said there were clear cultural problems at Weston Creek.
''For me to have to leave a job that I was dedicated to was very hard and upsetting.''
Speaking before Mr Linke's announcement, a current supervisor, Belinda Gibbs, said many staff lacked motivation and, while the workforce problems were not new, 2013 had been a particularly difficult year.
''It's reached this crisis point in the last six months,'' Ms Gibbs said. ''We're losing too many good staff - probably about four or five key people who the shelter really could have used - all left in 2013 or late last year.''