Canberra's arts diary from September 9
Arts diary – September 9
What's on in Canberra's art scene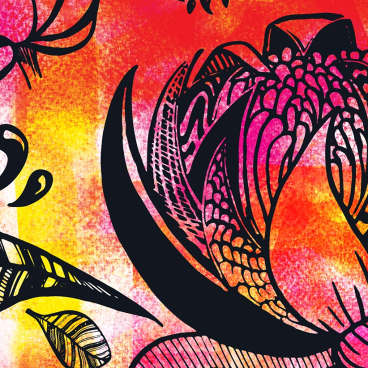 VISUAL:
Australian National Botanic Gardens: From the Red Heart. Ceramic artist Cathy Franzi and painter Sharon Field feature works based on the Red Centre Garden. Until October 9. Daily 9.30am-4.30pm. Visitor Centre Gallery, Clunies Ross St, Acton. Ph: 6250 9588. Open daily 8.30am-5pm. Clunies Ross Street, Acton. See: cathyfranzi.com
Bungendore Fine Art: Tribal Fusion. A diverse range of works expressing the social and cultural struggles experienced by indigenous people throughout the world. Until November 2. Open daily, 10am-4.30pm. 42b Ellendon Street, Bungendore. See: bungendorefineart.com.au.
Civic Library: GUILD 16. An exhibition of recent work by members of the Canberra Craft Bookbinders' Guild featuring 33 works from beginners to professional bookbinders, consisting of the contemporary and the traditional. Until September 17. Open Monday to Friday 10am-5.30pm, Saturday 10am-4pm. Civic Library Mezzanine Gallery, London Circuit, Canberra City. See: canberrabookbinders.org.au.
Ginninderra School House Gallery: Australian Light. An exhibition by well-known local artist Nell Anderson featuring watercolour paintings of country scenes, farmland, flowers and children. Until September 25. Open Thursday and Friday 10am-4pm, Saturday and Sunday 8.30am-4pm. Sweet Copper, Ginninderra School House Gallery, Old Ginninderra Village, 3/11 O'Hanlon Place, Nicholls. See: sweetcopper.com.au or ph: 6230 9007.
M16 Artspace: Preset Memory. Five well-established Canberra artists use experimental approaches revealing intriguing individual viewpoints expressed as photography. Granite and Grain. A joint project by photographers Jane Duong and Chris Holly which explores and captures the Namadgi landscape using hand-printed argentotypes. Both until September 25. Open Wednesday to Sunday, noon-5pm. 21 Blaxland Crescent, Griffith. Ph: 6295 9438 or see: m16artspace.com.au.
Nancy Sever Gallery: Yvonne Boag: Here and There. Artist Yvonne Boag's paintings and drawings are a mixture of impressions of, and strong affection for, the places she has visited. Until September 18. Open Wednesday to Sunday, 11am-6pm. 4/6 Kennedy Street, Kingston. See: nancysevergallery.com.au.
PhotoAccess: In the Landscape. Emerging artists Amy Dunn and Annika Harding use the photograph as a starting point and add paint to explore the relationship between the artist or figure and the landscape. River. Canberra-based mid-career artist Peter Ranyard's exhibition showcases an intimate series of black and white photographs of remote New Zealand. NEW PAINTINGS. An exhibition utilising modest materials and photographic technologies to play out processes of making and encountering art. All until October 2. Open Tuesday to Friday 10am-4pm, Saturday and Sunday noon-4pm. Manuka Arts Centre, corner of Manuka Circle and New South Wales Crescent, Griffith. Ph: 6295 7810 or see: photoaccess.org.au.


Strathnairn Arts: Explore the Return of Tradition. A collection from the Australian Rugmakers Guild extending beyond rugs to include wall hangings, 3D art and more. Until September 25. Open Thursday to Sunday 10am-4pm. 90 Stockdill Drive, Holt. Ph: 6254 2134 or see: strathnairn.com.au.
Watson Arts Centre: Four Stories. An exhibition celebrating the artists' creative energy as they work in four diverse media areas and styles in ceramics, textile design and photography. Until September 18. Open Thursday to Sunday, 10am-4pm. Ph: 6241 1670 or see: canberrapotters.com.au.


PERFORMANCE:
​
Wesley Music Centre: Anachronisms – A Composer's Journey Through Time. The music of Michael Dooley performed by Andrew Rumsey, Emily Leong, Aaron Chew and Michael Dooley. Includes CD launch. Tickets available at the door. $25 adults, $20 concession. Saturday. 7.30pm. Wesley Music Centre, 20 National Circuit, Forrest. Ph: 6282 9066. See: trybooking.com/204115
Notices for Arts Diary must be submitted five days ahead of publication. Email events@canberratimes.com.au. Inquiries: 6280 2211.