Christopher Pyne says Australia on 'the right side of Israel now'
Christopher Pyne has gone beyond Prime Minister Tony Abbott's comments on Israel, throwing his support behind the nation at a forum in Jerusalem last weekend.
The Education Minister said Australia "is on the right side of Israel now" at an Australia-Israel-UK leadership dialogue.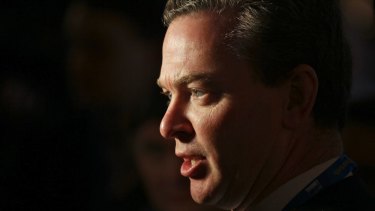 "Australia has always been prepared to be in the fight and always on the right side. And that's how we view the State of Israel that we are on the right side," Mr Pyne said.
Mr Pyne, along with a delegation which included Labor ministers, toured one of the Iron Dome missile interceptors and received briefings from Israeli Interior Minister Gideon Sa'ar and Opposition leader Yitzhak Herzog.
Mr Pyne said Australians supported the Israeli government's "firm action" in Gaza.
"It shows that Israel has existential threats that requires them to take firm action to protect those freedoms, firmer actions than Australia has had to take to protect our own existence. So that is the first reason, ladies and gentlemen, why the Australians are [at the dialogue].
"Because we regard Israel and Australia as sister countries with the same value systems and we want to show our support for that system here in the Middle East," Mr Pyne said.
Mr Abbott has had a milder stance this week, supporting Israel's right to self-defence and right to exist while suggesting the Israeli government's decision-making was not always perfect. He also welcomed the 72-hour ceasefire on Friday.
Mr Pyne said in the speech that Australia was a "good friend" not a "fair-weather friend" of Israel that stuck by the nation in tough times.
"Good friends visit their friends in tough times. It is easy to visit your friends when things are going well. Fair-weather friends who come and go when things are on the up and up are easy to come by. Friends who come when times are tough – they are the real friends," Mr Pyne said.
Labor MPs Victorian Michael Danby and Shadow Minister for Justice David Feeney were also part of the delegation and attended the forum.
A spokeswoman for Mr Feeney said he supported the two-state solution and urged an end to the conflict. A spokesman for Mr Pyne said he too welcomed the 72-hour ceasefire.
A spokesman for Mr Danby said he sincerely hoped "the 72 hour ceasefire is extended to a long term agreement for the people of Gaza as well as the complete cessation of all indiscriminate attacks on Israelis."
Mr Pyne was the chairman of the Australia Israel Parliamentary group from 1996 to 2004. Melbourne musician and businessman Albert Dadon organised the delegation.