CYO Opera Gala at Llewellyn Hall features soloists and conductor Leonard Weiss
Music
Opera Gala: Canberra Youth Orchestra. Conductor: Leonard Weiss. Llewellyn Hall, Saturday, March 24, 7.30pm. Tickets: http://premier.ticketek.com.au/shows/Show.aspx?sh=TOBIASCO18.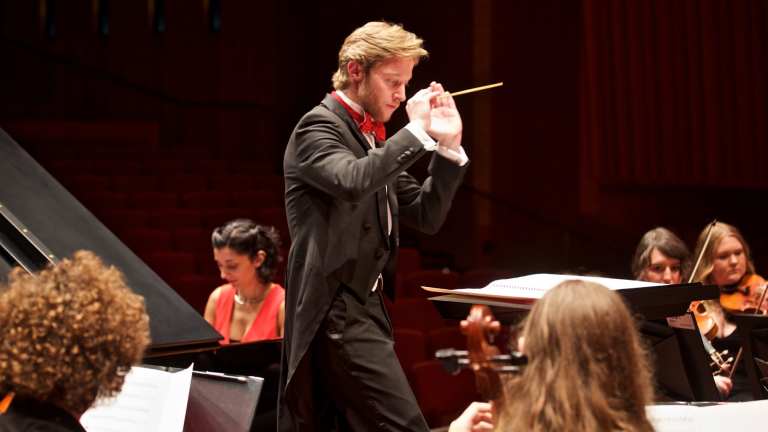 For the first concert in the 2018 season, the Canberra Youth Orchestra is trying something new for its young performers - opera.
Conductor Leonard Weiss says, "They haven't played this sort of repertoire, by and large."
In addition to popular orchestral excerpts - Rossini's William Tell Overture and the Habanera, Intermezzo and Toreador Song from Bizet's Carmen Suites - the orchestra will be accompanying singers Tobias Cole, Louise Page and Sarahlouise Owens in a wideranging program that spans more than three centuries of vocal works.
Weiss says this gives the orchestra the opportunity to accompany the soloists, individually and in combination, in a range of musical periods and styles as well as tempi to develop their skills.
There's even an art to the pause, he says: working with different singers you learn when and how they pause in different places in various numbers, and it's not the same as instrumental accompaniment.
"The players are enjoying the experience."
Cole, a principal artist with Opera Australia who's performed around the world, will be singing the counter-tenor title role in excerpts from Handel's opera Giulio Cesare and the lament Che faro from Gluck's Orfeo ed Euridice.
As Caesar, he will sing Va tacito, a duet with trumpet backed by strings that talks about the technique of a great hunter, and Aure, deh, per pieta, in which the character has seemingly returned from the dead, washed up on shore after fleeing an enemy's army after a battle. He will also perform a love duet with Page.
It's his first appearance with the Canberra Youth Orchestra and he says, "Because my repertoire is principally baroque, Handel and 18th-century music, I'm really enjoying the chance to show that music to the young players of the CYO."
Since the symphonic repertoire is primarily classical and romantic it tends to come later than the music he specialises in, he says, so he's enjoying the chance to share it with the orchestra members who are reacting enthusiastically to his discussions of the earlier period.
"That's what I've particularly enjoyed."
Cole hopes to get some of the young players interested in early music and in particular to attract them to perform in his own project, Handel in the Theatre, later in the year.
He will also darken his vocal tone to come in at the end of the Brindisi from Verdi's La Traviata, which has been rearranged as a duet for the two women. Owens will sing Ah! forse lui from the same opera, which Weiss calls "one of the most dramatic numbers from Traviata.
"It starts out reflective and becomes very intense."
Owens performed the role of the tragic courtesan Violetta in La Traviata in a production at Tuggeranong Arts Centre recently and says it will be on again at Wesley Music Centre in May.
"We're hoping to tour it in the regions," she says.
Among Page's solo numbers is the Mad Scene from Donizetti's Lucia di Lammermoor which Weiss says is "fun for the musicians" with lots of dramatic changes in mood.
One of the more contemporary pieces she's performing is Eliza's Aria from Elena Kats-Chernin's Wild Swans Suite, written for the Australian Ballet.
Ron Cerabona is an arts reporter for The Canberra Times.