Devil of a time for crazy critters
Despite their lack of table manners, a reputation for unpremeditated violence and a unique language of their own that consists entirely of cuss words, Tasmanian devils get a bad rap, Dr Janine Deakin believes.
Dr Deakin, an associate professor at the University of Canberra and an Australian Research Council Future Fellow, regards them as ''cute and adorable'' and says the little critters - the world's largest carnivorous marsupials - have been unjustly maligned for more than a century.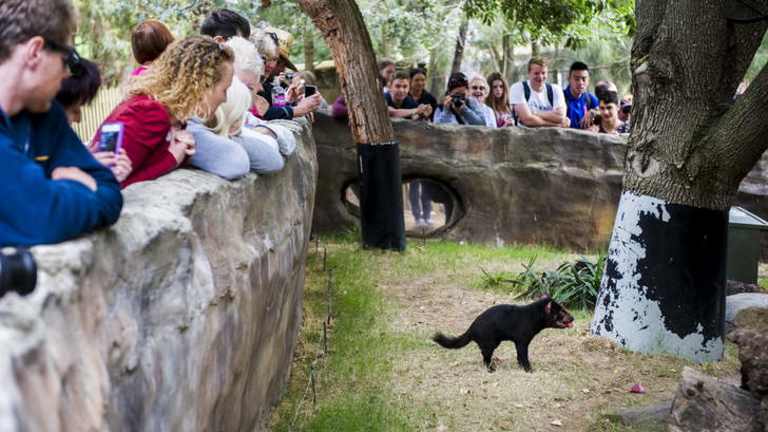 She is doing her best to ensure they retain their place as the peak scavenger in the Tasmanian bush.
Dr Deakin is a bit of a rare creature herself. After all, how many comparative genomics specialists have you come across lately?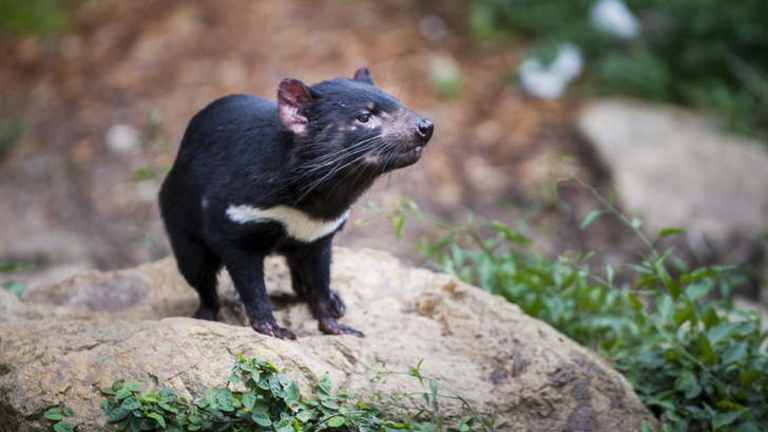 She has been working with devils for the past five years after realising her knowledge and skills could help track down a working response to the contagious facial cancers that have killed off 90 per cent of the devil population over the past 20 years.
Dr Deakin said the effects of the cancer tumours, believed to be spread by healthy devils biting infected ones, had bordered on the genocidal in some parts of Tasmania. The contagious tumours, which are a very recent development, kill their victims in several ways, none pleasant.
They range from animals starving to death because they can no longer feed (due to growths around their mouths), to organ failure as a result of tumours spreading to other parts of the body and, thirdly, fatal infections in the tumours themselves.
Given healthy devils only live six or seven years in the wild and, as marsupials, their reproductive process is time consuming and complex, it is difficult for the wild population to replenish its numbers.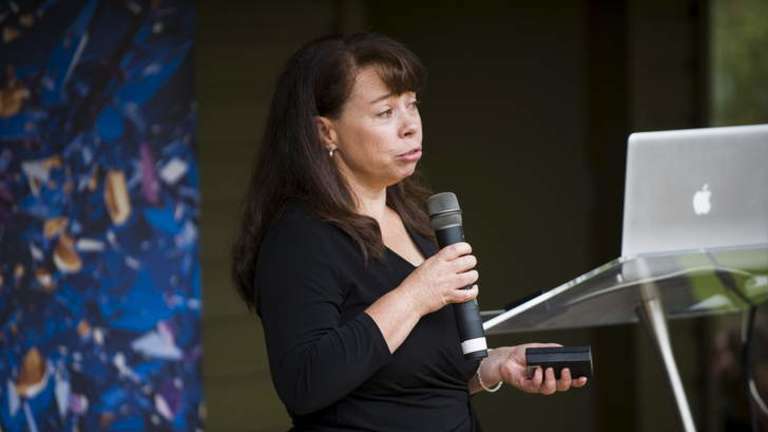 Captive populations, such as the animals at Canberra's National Zoo and Aquarium, play an important role as islands of uninfected animals that can be used to reintroduce the species into the wild if necessary.
Dr Deakin spoke at the Canberra Zoo on Thursday, telling visitors even though things look bleak for the devils right now she has not given up hope.
One possible outcome is nature, which has a history of being resilient, may strike a new balance as the native population builds up resistance and the tumours become less virulent.
Regardless of the final outcome, the research into the tumours and how they are being spread will not be wasted.
''I think our research will give us insights into human biology (as well),'' Dr Deakin said. ''This is showing us how tumours develop and evolve. By trying to save another species we may end up helping our own.''
■ Individuals can help the Tasmanian devils by supporting the Save The Tasmanian Devil campaign. Google it.
Good Samaritan eases young girl's spider fear
Cathy from Kaleen has responded to Thursday's Gang-gang call for good Samaritan stories. In this case she was the good Samaritan. I'll let her tell the story:
''I arrived at the Ginninderra Medical and Dental Centre earlier this week to find a young girl with a bit of a problem. As I left my car I saw her standing next to a scooter [holding] a long tree branch [and] moving her helmet around on the ground.
''My first thought was that she had dropped her helmet, had a sore back and was unable to pick it up. I offered to help her. Her dilemma was a little more unusual. When she had returned to her scooter from her appointment she found two redbacks on the bike. The first she had managed to knock to the ground with the branch. The other had disappeared inside the lining of her helmet - hence the hockey match on the bitumen.
''She was too terrified to look inside the helmet to see where the spider was, but I wasn't so concerned. I put my fist in thinking that that would squash whatever was inside. However, after lifting up the lining, there was no spider to be seen.
''Inside the solid inset of the helmet were a few small holes. I assume the spider had disappeared into one of them. The poor girl had been trying for an hour to get in contact with her father to bring her a spare helmet, but no luck. I offered to give her a lift home to collect the replacement helmet and drive her back to the medical centre. By the time we got back I had run out of time to see a doctor myself, but left with a feeling that somewhere down the track there would be some good karma for me.''
Gang-gang hopes that proves to be the case.
David Ellery is a reporter for The Canberra Times.