Exhibition gives Canberrans a sneak peek at IKEA store
A pop-up exhibit filled with Byholma​ armchairs, Hektar​ pendant lamps and jars of Lingonberry​ jam has opened to give Canberrans a first taste of what to expect when IKEA hits the capital.
The Explore IKEA exhibition details the history of the Swedish furniture giant as the countdown continues to its Majura Park store opening later this year.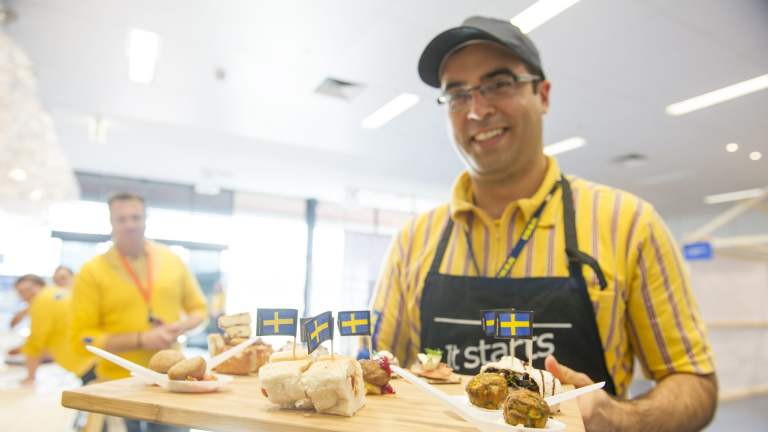 Store manager Mark Mitchinson​ said the company had held similar exhibitions in other parts of the world in the lead-up to a store opening, but the ACT space was the first in Australia.
"We probably have not seen this excitement in our market before when we've opened a store in Australia for a long time.
"We want to give the people of Canberra something special."
Wooden "concept houses" erected in the space contain displays of traditional Scandinavian design, IKEA design processes and products including fabrics and Swedish food items.
A timeline of IKEA's 70-year history and key pieces of furniture has been told through a wall of images and stories tucked inside cardboard flatpacks.
The exhibit, located inside the Majura Park Shopping Centre, will be open for the next 12 weekends.
"We want people to come in and understand a little bit more around the different aspects of IKEA," Mr Mitchinson said.
"It's not just a store of 8500 products, there's so much more to IKEA than that.
"We looked at how can we create that partnership with the people of Canberra now and give them a little bit more information and knowledge around IKEA so when they open those doors it makes it even more special."
The space will also be used to train more than 250 staff, who will be employed at the store, and for customer workshops on interior design.
Nearly 194,000 Canberra properties will receive an IKEA catalogue in the mail for the first time as part of a national drop in late August.
Staff expect to announce an official opening date, which is still on schedule for October or November, around that time.
Visitation and vitality manager Amanda Gillman said IKEA lovers could browse a rough floorplan of the store, create inspiration boards and chat with staff in the space.
"It's also a little bit for ourselves because Canberrans are really excited about us opening, but we can't wait to open either so it gives us a chance to meet some of our customers and start that interaction."
Construction on the site continues and the last parts of the iconic blue building's walls and concrete slabs are expected to be finished in the next few weeks.
The Canberra store will be the seventh in Australia and will open with the full range of 8500 products.
​Explore IKEA will be open between 10am and 5pm on weekends until mid August.
Megan Gorrey is a reporter at the Sydney Morning Herald. She was previously a reporter at The Canberra Times.