Former ACTEW head Mark Sullivan gets $690,000 pay-out
Former ACTEW managing director Mark Sullivan received a $690,000 termination payment when he left the job this year.
The government-owned water and sewerage company has made a string of other big termination payments in recent months in a clean-out of senior ranks under new managing director John Knox.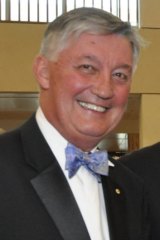 Deputy chief executive Ian Carmody, who also left in February, received $419,000 in termination payments plus $42,000 in long-service leave. Chief financial officer Simon Wallace and company secretary Michele Norris both left in July after becoming "unattached employees" in May, with pay-outs of $682,000 between them.
The sheer scale of the ACTEW clean-out becomes clear when you look at the management chart from two years ago. As well as Mr Sullivan, four of his five managers in 2012 are gone. Only Chris Webb remains, with a new title - now general manager of safety and business solutions.
As ACTEW head, Mr Sullivan was one of the city's big earners, with a package of $855,000 in 2011-12. A storm erupted when it emerged that ACTEW had under-reported Mr Sullivan's packaged by $234,000 in the 2011-12 annual report, resulting in the resignation of chairman John Mackay last year, an end to executive bonuses and a renegotiation of Mr Sullivan's pay, which was reportedly cut by $140,000.
It is not easy to find this pay cut in the annual reports, with Mr Sullivan's pay for the 2012-13 year reported at $770,000 including bonuses and his pay to February 10 this year (a little over seven months) at $497,000.
In February, he left the company in what was described as a "mutually agreed" departure. The annual report now reveals he also went with a big pay-out. As well as $690,000 in termination pay, he received $88,000 for long-service leave. All up, Mr Sullivan's pay and pay-out cost ACTEW $1.29 million in 2013-14.
ACT Chief Minister Katy Gallagher said she had been advised by the board that there would be a termination payment and had sought assurances that it was in line with industry standards and no more than the contract allowed. She had been assured that was the case, she said.
"But ultimately this isn't a matter that the shareholders can get involved in - it was a matter between the board chair and those senior executives that were employed by the board," she said on Monday.
"I understand people will look at that and say, 'Wow, that's a lot of money'. But the remuneration package is a lot of money and I think the negotiations between the board and the chief executive at the time were about terminating that employment arrangement and therefore entitlements were due."
Of the senior team in place in 2012, Ross Knee finished in March 2013 with a termination payment of $338,000; Mark Sullivan left in February this year; Mr Carmody left a fortnight later; and Ms Norris and Mr Norris both left in May this year. Ms Norris received a termination payment of $324,000 and long-service leave of $60,000. Mr Wallace received $241,000 in termination pay and $56,000 in long-service leave.
The departures haven't resulted in an influx of new faces, with most of the new executive team appointed from within the company.
The board also escaped the clean-out.
John Knox was appointed managing director in March. A spokeswoman for ACTEW did not provide a figure for his salary but said it was consistent with what Mr Sullivan had been paid.
Mr Knox earned $255,000 for the period from March to July, according to the annual report.
The spokeswoman would not disclose the detail of Mr Sullivan's pay-out, saying it was confidential. The arrangements had been "in line with existing standards and conditions". ACTEW's redundancy standard caps payments at 12 months.
She said the redundancies, resulting from a "realignment of roles and responsibilities in the executive team", had been "through mutual consent" and pay-outs had been "in accordance with both contractual obligations and ACTEW's standards".
A new structure was also planned, including merging the water and sewerage asset management groups; moving operators to the projects and maintenance group; and establishing a technical advisory and standards team.
Kirsten Lawson is news director at The Canberra Times