Heart Foundation calls for tough rules on e-cigarettes in the ACT
Electronic cigarettes should be banned in smoke-free areas in Canberra and there should be restrictions on the sales of personal vaporisers in the ACT, according to the Heart Foundation.
The Heart Foundation ACT has called for strict regulations on so-called e-cigarettesin a submission to the ACT government's discussion paper on reducing the harms of personal vaporiser devices.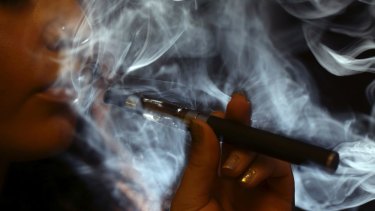 The foundation's chief executive, Tony Stubbs, said widespread use of e-cigarettes could see a return to the "bad old days" of cigarette use being an aspirational activity for young people.
Mr Stubbs said the current lack of regulation around e-cigarettes and personal vaporisers meant it was unclear what types of devices were being sold and which ones contained nicotine.
"The crucial thing is we just don't know what's in them and we don't know how safe they are," he said.
"The cautious approach would be to ban them now until we really know that in the first instance they're really safe and also whether they can be used for [smoking] cessation or not, so we would be saying to restrict them now until we have further information."
The sale of vaporisers containing nicotine is illegal in the ACT but devices without nicotine that make no claim about therapeutic benefits are not restricted.
The discussion paper outlines concerns that some are incorrectly labelled as nicotine-free, with one recent study finding the poison present in 70 per cent of the products on sale in New South Wales.
Mr Stubbs also had serious concerns flavoured vaporisers were being targeted at young people.
The Heart Foundation ACT has called for strong restrictions on vaporiser sales in the ACT, including banning selling them to anyone under 18.
"We'd also like to see restricting in-store point of sale advertisements and displays, prohibiting sales by vending machines and banning promotions including through customer reward schemes, sponsorship and product giveaways," Mr Stubbs said.
"We just don't see there's any need to be able to promote them or sell them and certainly the government proposal indicates they don't want to see younger children take it up, they don't want to see people who are smoking already using it as a cessation device."
One in seven smokers aged 14 or older last year used battery-operated electronic cigarettes in the past 12 months, according to the Australian Institute of Health and Welfare's recently released National Drug Strategy Household Survey for 2013.
The report also found younger smokers were more likely to have used an electronic cigarette in the previous 12 months than older smokers.
Mr Stubbs was concerned the popularity of e-cigarettes appeared to be growing.
"Before we know it, they may actually become more normalised, especially for kids so we should take a cautious approach and tightly restrict it now until we know what harm it's doing for people generally but particularly what harm it's doing to our children," he said.
"We've come a long way. Canberra is one of the best jurisdictions in the country around restrictions of tobacco. We know now that it's harmful and we don't want our children to start."
Retailers in Canberra do not require a licence to sell vaporisers and no age restrictions are in place. The devices are stocked in some service stations, adult shops and supermarkets and are widely available online.
Submissions to the discussion paper closed this week. The government is expected to respond to submissions early in 2015. .
Natasha Boddy is a reporter at The Canberra Times.