A private consortium planning an ambitious high-speed rail link between Sydney and Melbourne says the ACT government has shown little interest in the project.
Consolidated Land and Rail Australia is attempting to develop a $200 billion bullet train link between Sydney and Melbourne, a plan that has long been discussed, including by the federal government, but never achieved.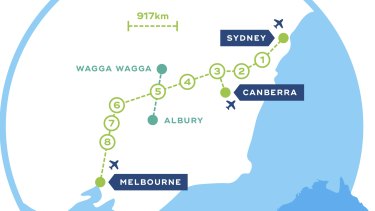 The consortium's plan, revealed in July, relies on a value-uplift model, where it buys up cheap rural land and develops new towns along the route, giving it the money to pay for rail infrastructure.
Proponents say it would spread the population out into rural areas, improving housing affordability in cities, while easing congestion and overcrowding.
CLARA says it would not need taxpayers' money, but does need the support of various levels of government.
Experts like Curtin University sustainability professor Peter Newman have cast some doubt on the funding model, saying attempting to create new towns in greenfield areas instead of renewing existing cities and towns had failed in the past.
But CLARA says it has already begun taking control of land, including near Yass. The consortium also has big names on its board, including ex-premiers Barry O'Farrell and Steve Bracks, as well as retired federal trade minister Andrew Robb.
CLARA chairman Nick Cleary said the company had spoken with virtually every government except for the ACT. Mr Cleary said he thought the ACT would have shown more interest than it had.
He said a Canberra to Yass link could potentially be included on stage one of the project, instead of the later stages, but required sufficient political will on behalf of the ACT government.
"At the end of the day, we've got to have a level of interest. And I'm very open to it, but it all comes down to political will," he said.
Mr Cleary described his project as the best chance Canberra had to get a high-speed rail link to Sydney, a journey that would take less than an hour.
But ACT Labor leader Andrew Barr said Canberra should be on the main route of any high-speed rail link, not on a spur line.
He said the ACT would work on the high-speed rail plan developed by the federal government, should it proceed.
"Canberrans must be very wary of CLARA's plan to promote satellite cities," Mr Barr said.
"Given the Federal Liberal's government's track record of moving Australia Public Service agencies out of Canberra, this proposal could see more federal governments jobs taken away from Canberra to prop up these new cities."
Like Canberra, a minor party running in the ACT election, has a high-speed rail link as one of its central campaign platforms.
Like Canberra's Tim Bohm said the project would help create jobs in the region and cost ACT taxpayers nothing.
"What [CLARA] need from the ACT Government is help with securing the alignment and corridor in and out of Canberra," he said.
"NSW and Victorian governments are currently working with CLARA on the proposed corridor/track alignment, so why isn't the ACT Government?"
"Andrew Barr's government hasn't even picked up the phone and talked to CLARA regarding their proposed fully funded $3.4 billion investment in the region."
The main line would not go through Canberra, meaning ACT residents would need to catch a high-speed train past Yass to get to Sydney or Melbourne.
Mr Cleary said Canberra passengers would not need to change trains at Yass.
Christopher Knaus is a reporter for The Canberra Times.