Lee Kernaghan and fellow Australian artists sing the spirit of the Anzacs
With less than a month to go until the 100th anniversary of the landings at Gallipoli on Anzac Day, an album of songs has been released bringing the stories of the diggers to life.
Singer Lee Kernaghan teamed up with fellow Australian artists to create 16 songs which tell the personal accounts of service men and women spanning WW1 to the present day.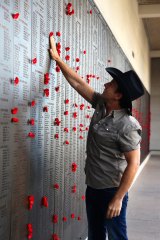 The resulting album, Spirit of the Anzacs, debuted at number two on the iTunes charts last week.
The project started back in 2013, after Lee found himself on tour in Canberra just after reading Sir Edward Weary Dunlop's war diaries. Wanting to find out more, he visited the Australian War Memorial.
"As I entered the memorial I was sort of frozen in my tracks upon reading a plaque by the memorial's founder Charles Bean and the words on the plaque said, 'Here is their spirit in the heart of the land they loved; and here we guard the record that they themselves made'. So that was the first hit to the heart," said Lee.
"Then I became completely dismantled upon reading the letters and the diaries from the archives that are held at the war memorial where the voices of the diggers almost come to life in those precious documents."
The album has guest appearances from Lisa McCune, John Schumann, Sara Storer, Guy Sebastian, Sheppard, Jon Stevens, Jessica Mauboy, Shannon Noll, Megan Washington, and Canberran Fred Smith who wrote Dust of Uruzgan.
The songs each originated from individual letters from the War Memorial.
"Wherever we could use their exact words, it was their exact words."
For both The Spirit of the Anzacs single and video, 100 per cent of the proceeds go to Legacy Australia and Soldier On.
"I think the album really resonates across Australia in the hearts of people who've had fathers and grandfathers and sons and daughters and uncles who have worn our uniform. The album has very little to do with me and everything to do with our service men and women."
And despite all the time he's spent at the war memorial, Lee has plans to spend much more there yet.
"I never seem to have enough time – it's not even the tip of the iceberg yet. I want to be able to come back and just completely immerse myself in the stories and history and I've done a bit but I want to do a lot more."