Light rail project to cause detours on Northbourne, Federal Highway in January
Now that Summernats - with the accompanying extra traffic and road closures - is over for another year, north Canberra roads are meant to go back to normal. Not this year.
Canberra's light rail project will cause the closure of a major Federal Highway intersection to all northbound traffic for two-and-a-half weeks from Tuesday, January 9.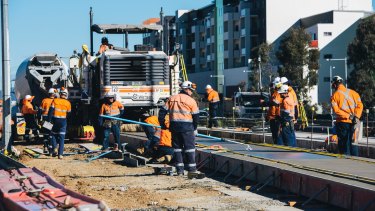 Work on the intersection will run 24 hours a day, seven days a week from January 9 to 25, in what looks to be the most extensive intersection closure to date.
No northbound traffic would be allowed on the Federal Highway from Phillip Avenue in Dickson north to the Flemington Road turn-off, a Transport Canberra and City Services spokesperson said.
Traffic travelling north from Canberra to Sydney will be detoured along Antill Street or Phillip Avenue.
Traffic travelling north to Gungahlin will be detoured via the Barton Highway and Randwick Road or Gungahlin Drive.
"All motorists travelling north towards Sydney will need to use alternate routes and follow the clearly-marked detours. Some delays may be expected," the directorate said, asking motorists to follow detours and allow additional travel time.
The closure would also prevent right turns from the Federal Highway on to Flemington Road and traffic travelling southbound, towards the city on the Federal Highway, would remain unaffected.
"This closure will enable vital work on the light rail project to progress safely at a time when the impact on traffic will be at a minimum."
Detours would be in place to divert all traffic including buses, and traffic management would be in place throughout the works.
The directorate said pedestrian and cycle access would be maintained but there could be disruption to buses.
For more information on bus service updates, visit www.transportcanberra.com.au and for more information on the road closure, go to www.canberra-metro.com.au
This story was originally published in December.
Han Nguyen reports on property for The Canberra Times. She joined the Times in 2017 after working as a breaking news reporter at The Sydney Morning Herald.