Motorists Party takes hard line on crime
Canberra's drug dealers, prisoners, soft judges and mosque traffic have all been put on notice by the Australian Motorists Party.
Chief Minister Katy Gallagher and petty bureaucrats imposing unreasonable red tape were also warned they were in the party's sights as the motorists launched their election manifesto in Gungahlin this morning.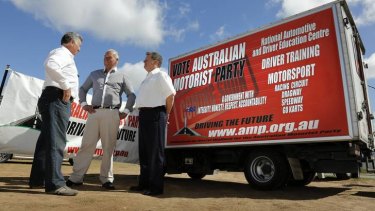 The party will run a candidate in each electorate with former One Nation member and party spokesman Burl Doble to contest Brindabella while former face of Summnernats Chic Henry will take on Ginninderra.
David Cumbers, another veteran of the party's 2008 campaign, will run in Molonglo.
Mr Doble said that a key policy platform would be a tough-on-crime approach that would take a hard line on soft judges and soft prison conditions.
''We don't believe generally that the judiciary is handing down sentences that need to be handed down,'' Mr Doble said.
''We have a lot of re-offenders so whatever penalties they're having right now don't work and they have to be increased, we have to get tougher on law and order because as we know, the city is not a safe city to live in any more.
''We need to get rid of the United Nations provisions there and make the jail run like a proper prison.'' The motorists also had no time for a needle exchange program at the Alexander Maconochie Centre. ''A lot of the prisoners already have problems with drugs and to let them inject drugs in prison, is a dangerous situation to us,'' Mr Doble said.
The party launched its policies near the site of the new Gungahlin mosque and Mr Doble said the party had not backed off its concerns about traffic from the development.
''The mosque is going to be built just down the road here and this is one of the areas that's going to be badly affected by traffic when the mosque comes about,'' he said.
''A big problem with the mosque is the time when they hold their services and that's usually late in the afternoon in peak periods and usually there's a lot of traffic around from the shopping centre.
Mr Doble was asked if his party would drop its objections to the mosque if worshippers were prepared to walk, ride or take the bus to their prayers. ''That's fair to say,'' he replied.
Mr Doble had a warning for Katy Gallagher too, declaring the time was right for a change of government.
''This government has been in for a good time now and there are a lot if things that are going astray, if you have a look around the city, everything's deteriorating, our roads are getting worse, the traffic is getting worse, it's not getting catered for and generally Canberra residents are disgruntled about living in Canberra, it's not the way it used to be,'' he said.