Patrick Bacon is unfortunately used to pulling illegal nets out of Canberra's waterways. He's just not used to them being so big.
The Access Canberra environment protection officer on Tuesday pulled a 25-metre net from Franklin Pond in Gungahlin after a concerned community member reported what they rightly suspected was illegal fishing activity.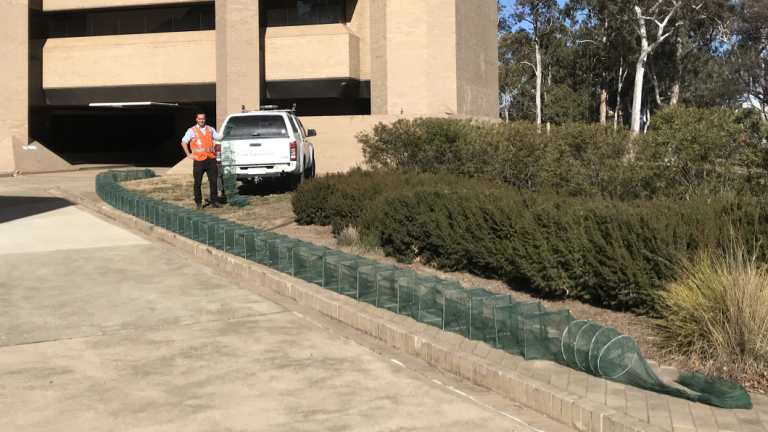 The find was, in every sense, the largest net of Mr Bacon's career.
"I'm taking this to the EPA national conference," Mr Bacon said. "I'm going for the world record."
Mr Bacon said the net could have been from a commercial fishing trawler. When he pulled the monster catch and its four-metre cousin from the pond off Nullabor Avenue it had snagged only a couple of mouldy yabbies, some plastic bags, bait and and an old fishing reel.
Mr Bacon said the find could've been much more serious, with turtles, platypus and other aquatic mammals at risk from illegal fishing activity.
"Whoever it was I think has come off the trawlers in Queensland and brought their gear down here," he said.
"It's an illegal activity but we at the EPA are here to regulate it.
"We're not saving the Amazon but it's the tangible victories like that which really give heart to what we do for a living."
If caught, the owner of the net could face a $5000 fine.
Mr Bacon reminded Canberrans to take pride in their environment.
"It doesn't matter if your home backs on to the Franklin ponds or the Murrumbidgee, they're all connected," he said.
Fish traps, enclosed nets and set lines are not allowed in the ACT's lakes and rivers. Other fishing is legal in certain areas of the territory.
More information is available on the Access Canberra website or by calling 13 22 81.
Emily Baker is a reporter for the Sunday Canberra Times. She previously reported on education for The Canberra Times.