New inflatable Salti boards take stand-up paddleboard yoga to the pool
When local yoga instructor Jo Flynn launched stand-up paddleboard yoga on Lake Burley Griffin almost a year ago, she was overwhelmed by the response.
Classes quickly booked out every week during the warmer months, but once the weather started to cool down, she had to stop for the winter.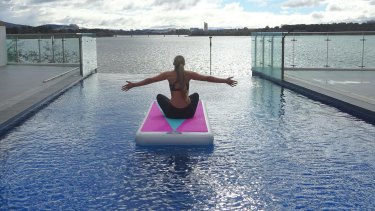 "The classes were full week after week, and I wanted to be able to do something that could carry on through winter," she said.
With paddleboards too big to use in a pool, she looked around for an alternative solution, and found a manufacturer in China that made a wide range of inflatable products.
Working with her partner Brendan Schmid, Ms Flynn designed an inflatable board, suitable for yoga and fitness training, which fits in a pool.
The Salti floats are simple to inflate using a hand pump which is included, and they have a foam-like top which provides grip for the user even when the board is wet. Once deflated, the float fits into a backpack.
The Saltis can hold up to 120 kilograms and are solid once inflated. They can fit into a swimming pool lane and have rings on either side which can be fastened to other boards or pool lanes for stability.
Ms Flynn will continue to run stand-up paddleboard yoga classes on the lake during summer, and will also run classes all year at Civic Pool using the Salti floats for those a little less keen on the lake.
"People are still a little alienated by the lake. I have no issue with the lake, I really love getting out on the lake, but there's a small, maybe large, population of people that are too afraid to go into the lake," she said.
The first shipment of boards is due to arrive in late September, and they are available for purchase by yoga or fitness instructors or by individuals for use in their own pool.
"We're not telling people the type of class they have to run on it, we're just giving them the product. They can use it for yoga, they can use it for fitness, they can use it for rehab, or pilates," said Ms Flynn.
"The beauty of taking it from the land to the water is that the minute you're on the water, you're automatically activating your core, so you're just getting that deeper workout and you're working the smaller muscles without realising it.
"You can also loop resistance bands to the handles so you can do strength training on it - so there's a lot of options. The plan is to get as many instructors on board."
See salti.com.au.