New organ comes with licence to thrill
''Doesn't it just make you want to get married again?'' organist Chris Erskine rejoiced recently at Saint Paul's Anglican church in Manuka as the last notes of the Trumpet Voluntary chased echoes around the church's every nook and cranny and ruffled the flowers in the great vase beside the altar.
He'd just set the magnificent new 2000-pipe organ of Saint Paul's loose for a joyous gallop through a window-rattling version of the popular wedding favourite.
Without even having to pester Santa or be especially good, all music-loving Canberrans have been given, just in time for Christmas, the most fabulous present imaginable. For it is going to be a blessing for all musically sensitive Canberrans (not just churchgoing Anglican ones).
Between the playing of things, Saint Paul's organist Erskine (in his quiet way as thrilled with this grand contraption as James Bond would be with a new Aston Martin) was already thinking aloud of wondrous ways to employ the organ in the city's music-making.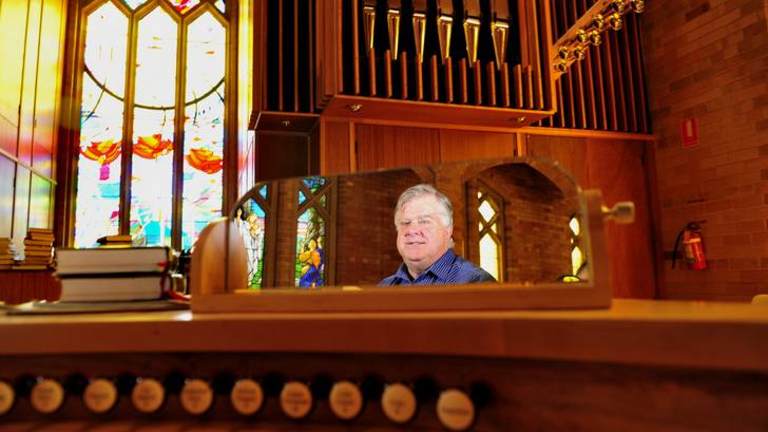 ''Now that it's finished we want to make use of the instrument and the space [Saint Paul's]. So, I'm wondering if for example we might approach the Canberra Youth Orchestra to do something with them, and have more recitals with visiting organists. It would be nice to make the space better used, so that people who are Christian, agnostic or otherwise will get to hear it.''
The Trumpet Voluntary was the very piece to use to give the very grand instrument (it would be vulgar to say how much the bequests-enabled acquisition cost but Erskine believes there's little change from $500,000 for an organ like this) a good workout because one of its terrific features is a battery of gleaming trumpets royal.
They project from the body of the organ, as if there were a regiment of heralds inside, blowing on brass instruments pushed out through a castle's windows. A feature of almost all the grand church organs of Spain they're so rare an adornment of organs in Australia that Erskine thinks Saint Paul's organ may be one of only seven in Australia to have them.
As well as looking brilliant they can deliver an especially powerful brassy yodel. This is partly because their horizontality enables them to ''fire'' sound out into the church as if from a musical blunderbuss, and partly because in this organ, since the trumpets work on more than double the usual wind pressure, their power is specially augmented with an ''extra blower''. The effect (Erskine gave this reporter a short recital) is hair-raisingly and soul-tinglingly terrific.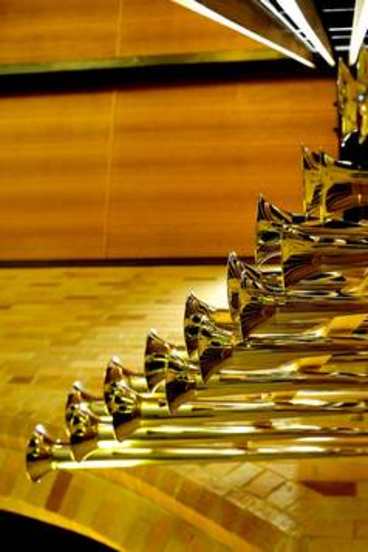 Erskine joked that when the trumpets royal were given their first romp ''we were worried we'd blow out the windows at the other end of the church''. Not that the new organ (its elegant, wood-encased console made by esteemed organ-builders in Ballina in NSW, its trumpets royal in England and its other pipes in Germany) isn't just as capable of doing delicate, nuanced things. It is a very complex machine with miscellaneous personalities and at our recital sang Jesu, Joy Of Man's Desiring with soft, piping sincerity.
Joking, Erskine liked to harp on the power of the new organ. He pretended that in a church the singing congregation and the organ and its organist are in competition, trying to drown one another out. Now, equipped with the new organ and its panoply of trumpets, he thinks he may very well have the edge now.
''The first time it [the new behemoth] gets seriously into competition with the congregation will be at Christmas. On Christmas Eve and Christmas Day the church is usually full from back to front. So, [sounding supremely confident about these looming tournaments] we'll see who wins then, between the congregation and me!''