New Southcare Toll rescue chopper for the ACT and immediate NSW region
Canberra's new rescue helicopter is 40 per cent faster than its predecessor, flies better at night and has already flown 120 missions since April.
The Southcare Toll rescue helicopter received its official launch on Tuesday morning, with the top-of-the-range chopper to service the ACT and nearby NSW.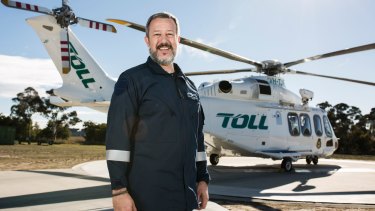 The 2016 model Agusta Westland 139 helicopter has taken over from a 35-year-old Bell 412 chopper which serviced the region as the SnowyHydro Southcare Rescue helicopter.
Base manager Gerard Longley said the helicopter was a leap forward, being faster, more capable and giving emergency workers a longer range.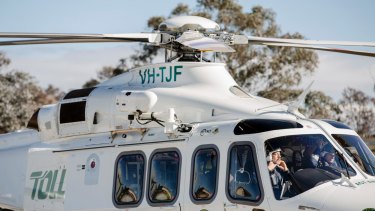 "It represents the leading edge in terms of aeromedical retrieval helicopters in the world today," Mr Longley said.
"Close to 70 per cent of all missions so far that this base has conducted have had elements of the flight being at night or completely at night."
"It's able to reach more people in a shorter period of time. It flies approximately 35 to 40 per cent faster than previous aircraft in the region."
Toll took over from Canadian Helicopter Company in April after winning a 10-year contract with the ACT and NSW governments for the emergency helicopter service in the entire southern region of NSW, including the ACT.
ACT emergency services minister Mick Gentleman said his government will contribute $1.4 million per annum to the aircraft, representing only 10 per cent of the running costs.
The NSW government was contributing 90 per cent of the funding for running costs.
"This new Southcare Toll helicopter continues the legacy of its predecessor who served the region for some 19 years," Mr Gentleman said.
Mr Gentleman pointed to the aircrafts new power line warning system, night vision capabilities, powerful engines, ground proximity warning system, as some of the new safety features.
"I want to thank all ACT ambulance service paramedics, the Canberra hospital doctors and the Toll staff, who keep this service in the air to serve the community," Mr Gentleman said.
Toll's executive for defence and government Mark Delany said the helicopter had already flown out as far as Broken Hill, withs its powerful twin engines often bringing it to incidents before on-the-ground paramedics.
He said the same engines allowed it remain hovering after a single engine failure for two and a half minutes, the previous chopper would have to break hover almost immediately in such an event.
"We're very proud of the innovations we've brought," Mr Delany said.
Finbar O'Mallon is a reporter for The Canberra Times