The ACT Greens have announced a $20 million initiative to work with every school community in Canberra to develop individual traffic management plans to increase safety in school zones.
The announcement comes as the ACT Council of Parents and Citizens Associations, the peak body representing public school parents, called for ACT election candidates to commit to prioritising student safety by addressing traffic chaos.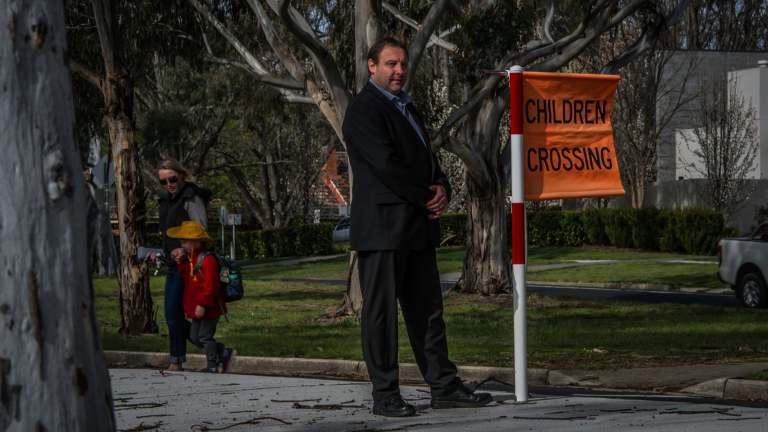 After several incidents in Canberra in recent times, the Council said there needs to be a commitment for real solutions from candidates.
"The safety of students is in jeopardy every day at some of our busiest schools," said Council spokesperson Adam Miller.
"We need to do whatever we can to make sure our children are safe.
"We acknowledge the current promises but other measures may be needed. For example, we would like to see funding for a trial of school-crossing supervisors for schools on busy roads."
The Council welcomed the Greens promise to implement individual traffic plans, saying every school had different problems and priorities.
ACT Greens leader Shane Rattenbury said his party recognised every school had its unique needs and challenges.
"Putting the community first means really understanding your local community," Mr Rattenbury said.
"Over the last six months, I have visited many Canberra schools and it's clear that every ACT school and surrounding area presents different challenges and risks to our students."
The Greens proposal would also invest in safety improvements to slow traffic speeds, add pedestrian crossings, add signage and improve walking and cycling connections, among other measures.
They have already announced a $57 million investment in the Action Bus network to expand the school bus network to encourage more students to take public transport to school.
The Council also welcomed the Canberra Liberals promise to install flashing lights at all school zones.
"That's a tried and true measure that works through all of NSW," Mr Miller said.
Canberra Liberals candidate Steve Doszpot said the flashing lights would also relieve pressure on volunteers and teachers "who work tirelessly to make sure kids go to and from school safely".
Mr Miller said schools also need to be consulted in the planning process.
"Over the past few years we have seen schools being adversely affected by changes to local traffic caused by new parking restrictions, changes to public transport, nearby housing developments, land-use changes and so on," he said.
"In many cases, schools were not consulted and there is often no obligation for them to even be considered."
The Council is now calling upon ACT Labor to match these policies.
Karen Hardy is a reporter at The Canberra Times.