Queen Mother of Bhutan plants tree at National Arboretum
The valleys of the National Arboretum might be worlds away from the peaks of the Himalayas, but the two were brought closer on Wednesday with the planting of a Bhutan cypress.
The Queen Mother of Bhutan, Gyalyum Sangay Choden Wangchuck, planted the tree with Chief Minister Katy Gallagher as part of her three-day visit to Canberra.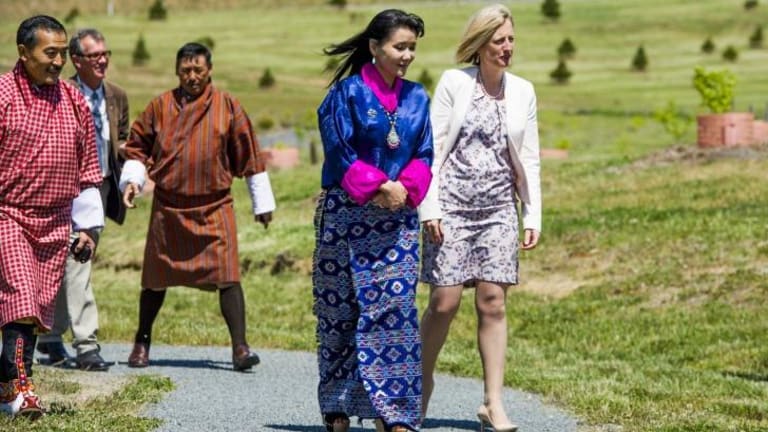 The queen mother's Australian tour will focus on raising funds to improve access to education for Bhutanese girls through a partnership between the Australian Himalayan Foundation and her charity RENEW in Bhutan.
"[We're] providing about 400 girls with their basic educational needs, which are school meals - often the only meal they get in a day - and school books and boarding facilities where they're needed for those living in very remote areas," the foundation's chairman, Simon Balderstone, said.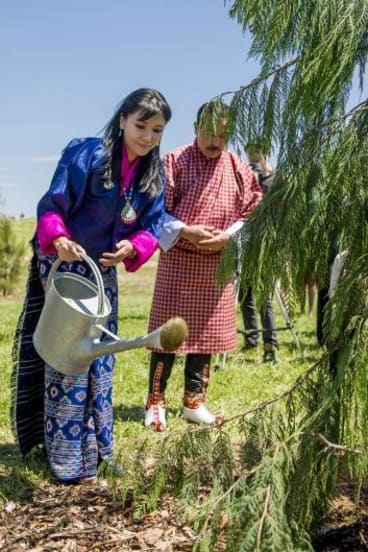 "Her majesty is vitally involved in this; she goes out into the mountains on horseback to visit these communities."
Mr Balderstone said the foundation raised money through the Australian community and operated as a "lean, mean fighting machine".
"We've raised now about $900,000 a year for all our projects in Nepal for the most poor areas ... and we do all that through one full-time staffer in Australia," he said.
Ambassador Kesang Wangdi said Bhutan and Australia also collaborated in other areas such as resource development and agriculture.
"[The tree planting] is another piece of mosaic in the wonderful tapestry of friendship between Bhutan and Australia," he said.
"Although our formal diplomatic relations were established in 2002, our relations go back to the '60s and co-operating at all levels."
During her time in Canberra, the queen mother will meet Department of Foreign Affairs and Trade Secretary Peter Varghese and the Minister Assisting the Prime Minister for Women, Michaelia Cash, and will visit University of Canberra students from Bhutan on Thursday.
Ms Gallagher said the tree planting was a great opportunity to showcase the National Arboretum and extend international friendships with visiting foreign dignitaries.
"It adds to the importance of the National Arboretum, but it's also a really lovely way of acknowledging that we have a Bhutanese community here and one of their most revered citizens has attended here and planted a tree," she said.
"We need to support leaders taking proactive steps to raise issues like girls' education and this is what her majesty is doing."
Clare Colley is Head of Audience Engagement at The Australian Financial Review.
Morning & Afternoon Newsletter
Delivered Mon–Fri.