Record equalled as sun finally shines
A 60-year record was equalled when the sun come out to warm the sodden capital yesterday.
The last time Canberrans faced seven days without sunshine, Robert Menzies was prime minister and the British and Australian armed forces were preparing for the first atomic bomb tests in Australia.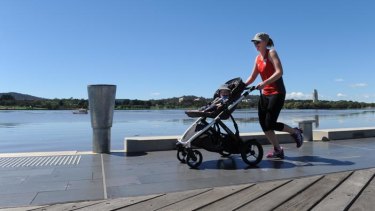 And the clouds blocking the sun weren't an empty threat, with the territory recording in the past week its biggest seven-day rainfall since 1950.
Nearly 200 millimetres fell at Canberra Airport during the seven days until Sunday, with 75 millimetres more recorded in the national capital's southern suburbs. Bureau of Meteorology climatologist Acacia Pepler said records had been falling thick and fast.
"We had this seven consecutive cloudy days once before and that was between 31st of July and the 6th of August in 1952," Ms Pepler said.
Canberra Airport has received three times its average rainfall for the month of March.
"So far during March, Canberra Airport has had 163.2 millimetres and the average for March is 50.7 millimetres," she said. "That's the wettest March since 1989, which had 243.6 millimetres of rain."
While lakeside businesses may have seen fewer customers, national institutions were enjoying higher than average attendance. Assistant director of Audience, Programs and Partnerships at the National Museum, Helen Kon, said wet weather always brought more people to indoor attractions.
"We know from experience that if the weather is wet, for example during Floriade, our visitor numbers increase significantly," Ms Kon said.
But Canberrans shouldn't get too used to the brilliant blue of early autumn, with the chance of more rain today.
The Bureau of Meteorology predicts clouds and moderate winds with a maximum of 21. There is a 40 per cent chance of rain with more showers forecast tomorrow, Thursday and Friday. Meanwhile, the flood warning for Queanbeyan was lifted yesterday with the SES issuing the "all clear" at 3pm as the Queanbeyan River receded.
The river peaked twice at six metres, on Thursday evening at 9pm and on Sunday at 3pm. The clean-up is expected to cost more than $500,000.
Across NSW flooding is still causing havoc. Floodwaters at Urana, south-west of Wagga Wagga, have forced the evacuation of the township, including 16 patients who had to be airlifted from a nursing home by the two NSW Ambulance Service rescue helicopters. An ambulance spokesman said floodwaters had affected sewer and electricity services.