Report reveals employment challenges for Canberra youth despite strong education record
Many young Canberrans are struggling to find work with an unemployment rate of 11.3 percent although the majority are exercising more, smoking less and committing fewer crimes.
A report on the state of young Canberrans, to be tabled in the ACT Legislative Assembly this week, found health and education outcomes had improved since 2009 despite concerns over employment and homelessness.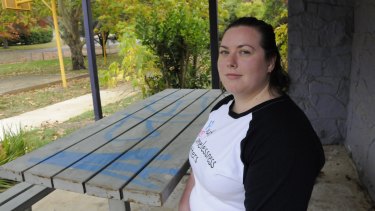 Minister for Children and Young People Mick Gentleman welcomed the report and said there was room for improvement.
More than 1420 Canberrans aged between 15 and 24 years were clients of homelessness services during 2013-14, which represented 27.7 percent of all clients.
Youth Coalition of the ACT deputy director Sarah Jewell said there were significant challenges for young people transitioning from education to employment.
"The unemployment rate has been increasing steadily for a number of years and we are expecting it to hit 12 percent by 2016," she said.
"Canberra is also an expensive city so young people can find it challenging to meet the costs of living when they are on junior wages that pay less, like those in the retail or hospitality industry."
Ms Jewell said youth homelessness was often a hidden issue and many younger Canberrans tended to couchsurf with friends or extended family.
"If they don't have a support network then they tend to reach out to specialist services that do incredible work," she said.
Mr Gentleman said the report showed more Canberrans were making the transition from year 10 to college or tertiary education, but admitted more could be done to improve employment opportunities.
"ACT high school students are staying at school longer with the Year 10-12 retention rate continuing to be significantly higher than the national average," the report said.
"The percentage of ACT year 12 graduates employed or studying six months after graduation has increased since 2009-10."
Ms Jewell, who supported the government's efforts to engage with young people, said better education outcomes could reduce the youth unemployment rate.
"Education is the key for making sure young people come out of school with the skills employers need, although it can be hard to gain employment without relevant experience," she said.
"This continues to be a challenge in the ACT where we have seen significant cuts to the public service and younger people find themselves competing with more experienced candidates."
Mr Gentleman said the retention rate for Aboriginal and Torres Strait Islander students continuing from year 10 to 12 had increased by 20 percent.
"Since 2009, we have seen 31 senior Aboriginal and Torres Strait Islander students receiving scholarships," he said.
"We know that the rate of unemployment has increased for our young people. That is why education remains one of the Government's biggest priorities in 2015."
The report, which measured key commitments between 2009 and 2014, also found the rate of young people smoking had fallen to 5.8 percent which is lower than the national average of 6.7 percent.
"There has also been a reduction in the number of students who report having used an illicit substance at least once in their lifetime, down from 14.8 percent in 2008 to 12.7 percent in 2011," the report said.
Ms Jewell welcomed the government's focus on mental health awareness and education but called for renewed action from the government.
Mr Gentleman said some young people were struggling to have their voices heard in the community, particularly those in the lesbian, gay, bisexual, transgender, intersex and queer communities.
"This is why we have commenced the Safe Schools Coalition. So that all students feel safe and supported in their school, and are not bullied or harassed on the basis of their sexuality," he said.
Henry Belot is a reporter at The Canberra Times.