Rowing and the lake 50 years on
Rowing's genesis in the Canberra area was in 1961, three years before Lake Burley Griffin opened, when former oarsmen Dick Luker and Bill O'Brien developed a proposal to the National Capital Development Commission for the provision of sites for rowing clubs and other facilities.
At a meeting on November 16, 1963, the ACT Rowing Association was formed, with Luker as chairman and O'Brien the secretary. Never mind that no clubs had yet been formed.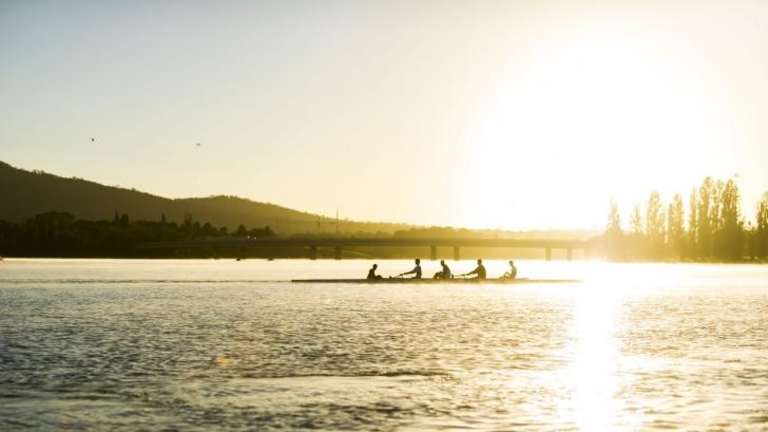 They soon came. The ANU Boat Club was established on April 21, 1964, followed by Canberra Rowing Club on May 1. The Burns Rowing Club joined them soon afterwards.
There was, however, a significant problem -- there was very little water in the new lake. In fact it was 15 feet short of its optimum level. Exacerbating these concerns was the fact that by some bizarre administrative quirk, the first regatta to be held on Lake Burley Griffin was to be the 1964 national championships.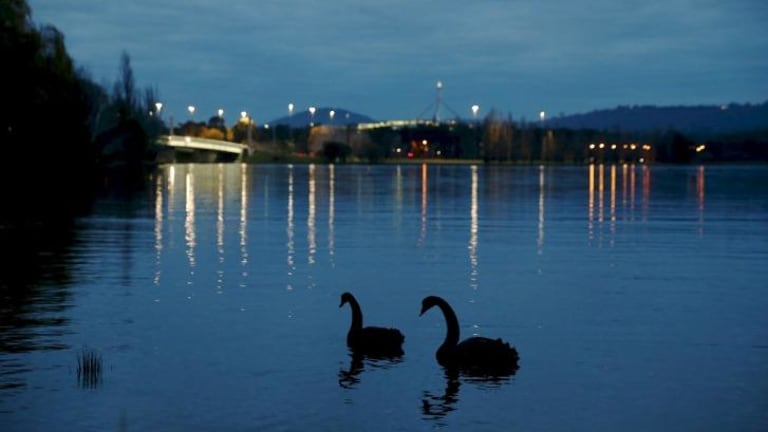 Australia's first-ever national regatta had been held in 1962, at Lake Wendouree, Ballarat. To the surprise of many, including most within the fledgling Canberra rowing community, the second such event was scheduled for the national capital from April 30 to May 2, 1964.
What is more, the regatta would also incorporate that year's trials for the Tokyo Olympic Games. The lack of water naturally meant the event was very much in jeopardy. But then it rained … and rained … and rained.
In just a week the lake level rose 12 feet and by Saturday, April 25, it was all but full. The bizarre nature of this turn of events was encapsulated by national administrator Kevyn Webb when stating, as the championships began: "It seems funny … that we will be rowing … where rabbits were running … less than two weeks ago."
Another quirk in the capital's rowing history is that its first three clubs had the same home. The new association administered a fleet of second hand boats bought from clubs in Sydney and Melbourne, which were sold to the newly-formed clubs and housed in the former East Basin pavilion, now the Boat House Restaurant.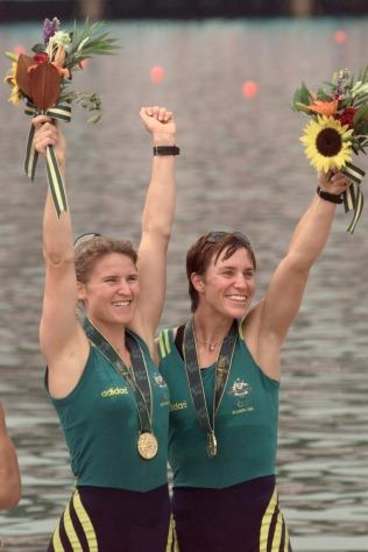 The first ACT regatta was hosted in East Basin by ANU on August 9, 1964, with conditions described as ``vile". Boats were swamped as a result of high winds. But that was as nothing compared with what followed on November 26.
On that day, 37-year-old Colin Panton and Burns Rowing Club colleague Bruce Shields were rowing a pair, steered by Colin's nine-year-old son, also named Colin, when high winds caught the craft near King's Avenue Bridge and it capsized. While clinging to the boat, Shields tried desperately to haul the Pantons back to it but they were swept away and drowned. The Col Panton Memorial Marathon is still contested each year from East Basin to Yarramundi Reach.
Two years later a regatta was contested for the first time on Yarramundi Reach. Conditions there proved markedly better and the ACTRA moved all regattas to the reach permanently. The only problem was that the course was 200 metres short of the international standard of 2000 metres. In the mid-1990s the association's then patron, Governor-General Bill Hayden, was asked if he would mind sacrificing 200 metres of his front lawn at Yarralumla. "Ask my successor!" was the sage reply. Canberra still lacks an international-standard course.
In 1976, the ACT had its first national champion when Peter Nevett from ANU won both the lightweight and junior single sculls titles. The current president of Rowing ACT, David Bagnall, believes the success achieved by Nevett led to consideration of the lake - and Canberra - becoming a serious locale for national rowing.
That goal was achieved when, in 1984, rowing was introduced into the AIS program and a lakeside base established at Yarralumla. Appointed to head the rowing section was Reinhold Batschi, a Rumanian, who went on to revolutionise Australian rowing and gain it a place in the upper echelons globally. Batschi was convinced that Lake Burley Griffin, with its wide open spaces and lack of commercial traffic, was the ideal location as the national centre for rowing.
In 1988 Batschi and others devised apprentice coach and talent identification schemes. These resulted in former oarsman Paul Thompson ``finding" a Queanbeyan student, Megan Still, and persuading her she could become an elite rower.
In 1995, with Kate Slatter, Megan won the women's pairs at the world championships. A year later, in Atlanta, the pair became Olympic champions.
Among Canberra's other high achievers have been Bruce Hick and Adair Ferguson, both originally from Queensland and both lightweight scullers. Hick won several world titles and Olympic bronze, while Ferguson was a world and Commonwealth champion.
At the other end of the age scale, Canberra and its lake have played a major role in establishing masters rowing nationally. The 2013 Australian Masters Regatta was the eleventh major veterans or masters event held on Lake Burley Griffin since the first in 1981.
Rowing has therefore gone from strength to strength in the ACT. From an original base of three clubs there are now 12: five open clubs – ANU, Canberra, Black Mountain, Capital Lakes and Lake Tuggeranong; two based on institutions – Royal Military College and the Australian Defence Force Academy; and five school clubs – Canberra Grammar, Canberra Girls Grammar, Radford College, Marist College and Daramalan College.
Referring recently to the hardships involved in establishing rowing in Canberra, Patrick Davoren, another stalwart member of the local rowing community, reflected on how much poorer Australian rowing would have been if the sport had foundered here.
His sentiments mirrored those of The Canberra Times almost at the start of rowing's establishment in Canberra. In a celebratory ''spread" on Sunday, May 2, 1964, the newspaper proclaimed the lake ``a liquid asset for a nation and its capital".
Robin Poke is president of the ACT Olympic Council and a former chairman and president of the ACT Rowing Association.