Senator Zed Seselja gets on his bike for the Ride to Cure Diabetes
When ACT Liberal senator Zed Seselja cycles 80 kilometres through the Barossa Valley, it will be children like Ethan Jeffress who keep him motivated should the going get tough.
Senator Seselja will join more than 350 cyclists taking part in the Ride to Cure Diabetes on January 17 who will ride either 35, 80 or 160 kilometres to fund money for medical research to find a cure for type 1 diabetes.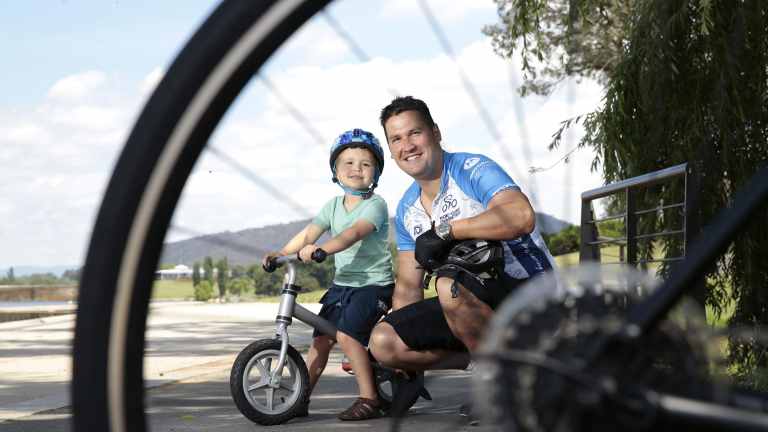 "I've gotten to know a lot of families who deal with type 1 diabetes and it is, I think, a very tough and very challenging condition to deal with for a family," he said.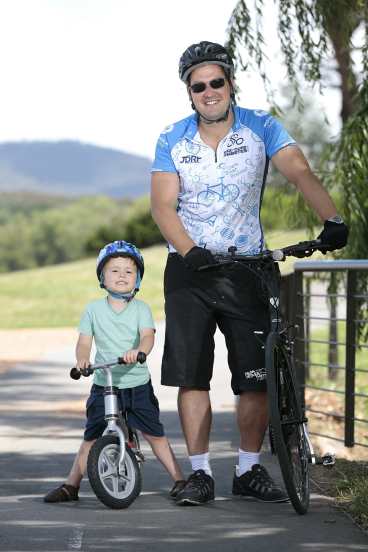 "I think the work JDRF does in looking for a cure but also in supporting families through those difficult times is just really valuable, so to be able to raise a small amount of funds for JDRF along with many others will hopefully make a difference."
Kathryn Jeffress' three-year-old son Ethan was diagnosed with type 1 diabetes nearly two years ago. The Florey mother said it meant the world to her that so many people were helping to raise funds for such an important cause.
Type 1 diabetes typically affects young people and is an auto-immune disease that destroys the body's ability to produce insulin.
The condition requires a daily regime of multiple injections or continuous infusion through a pump as well as six to eight finger-prick tests.
Mrs Jeffress said Ethan first started showing signs of being unwell shortly after the birth of her third child Mia.
She said his diagnosis was a terrifying period as he developed diabetic ketoacidosis, a potentially life-threatening complication in patients with type 1 diabetes.
"When it's as severe as Ethan's was, it can be life-threatening and we nearly lost him. It was terrifying," Mrs Jeffress said.
"It was a horrible, horrible time, his diagnosis. As a teacher, I had dealt with a handful of kids that had type 1 and I knew what we were going to be up against ... I kind of knew that it meant a lifetime of needles and finger pricks and constant worry."
Ethan has an insulin pump and requires a cannular insertion every three days. He also needs 8-10 finger pricks daily, including throughout the night.
"Having to hurt your own child every day is without a doubt the hardest thing," she said.
"The fact that he doesn't get a break from it is hard."
She said her son was incredibly brave and strong.
Mrs Jeffress lives in hope that one day a cure might be found.
"I want type 1 to be type none," she said. "In 100 years, we might be in that place but right now we need the research and resources."
For more information, visit: jdrf.org.au.
Natasha Boddy is a reporter at The Canberra Times.