Storm drain flooded with art for festival
Stormwater drains have been in the news for all the wrong reasons recently but one in Woden is being celebrated as part of the Woden Valley Festival which starts on Sunday.
Art in the Drain puts the spotlight on the street art in an 800-metre stretch of the stormwater drain running parallel to Callam Street and Athllon Drive.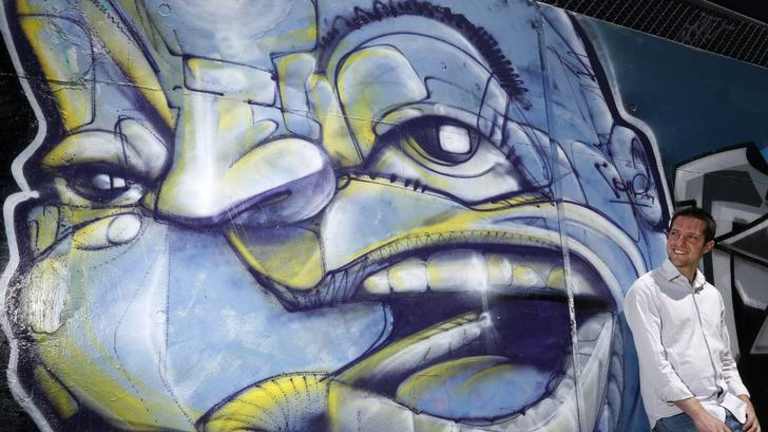 Festival director Rafe Morris said he wanted people to view the art, but advised them to take a commonsense approach and not go near it when it was raining.
''The festival is about celebrating the good things that are in the area and people might not know about this artwork,'' Mr Morris said. ''It's one of those unique, Woden-esque things about Woden.''
The street art is spectacular, with whole panels devoted to dinosaurs, Star Wars scenes, views from a jungle and abstract pieces.
''There's a lot of respect from the other artists. You don't go over someone else's work,'' Mr Morris said.
ACT Policing and the ACT Emergency Services Agency have warned Canberrans to steer clear of drains and fast-moving waterways in rain after three girls were swept into Yerrabi Pond on October 12.
Mr Morris said he wanted people to get down into the drain but only during dry conditions.
The festival will feature more than 200 performers, 15 events in nine venues, and four competitions - all within a week and all for free.
It kicks off on Sunday at 6pm at the Woden Tradies Club in Phillip with a comedy debate on whether the Woden bus interchange should be heritage listed.
The big event is the carnival on Saturday from 9am to 4pm at Eddison Park. There will be live performances from performers such as blues singer Owen Campbell, jumping castles, a petting paddock, circus workshops, markets, skateboard coaching and tours of the cemetery. Other events during the week include a seniors morning tea, the Next-Gen Poetry Slam and the Lift Off music festival.
Mr Morris said the festival was about connecting people.
''It's a way to put a whole lot of people in the one place at the same time,'' he said. ''Nobody knows their neighbours any more. This is an effort to create some community.''
■ A gallery of Art in the Drain has been put on the festival's website at wodenvalleyfestival.org.au. A festival program is also available on the site.