Tharwa Valley Forge offers army veterans hands-on bladesmithing, leather work skills
Mark Toogood has first-hand knowledge of how the creative process can benefit those recovering from post-traumatic stress.
The army veteran is now the programs manager at Tharwa Valley Forge. He's driving a new initiative offering veterans hands-on creative endeavours, including artisan bladesmithing, to help them through tough times.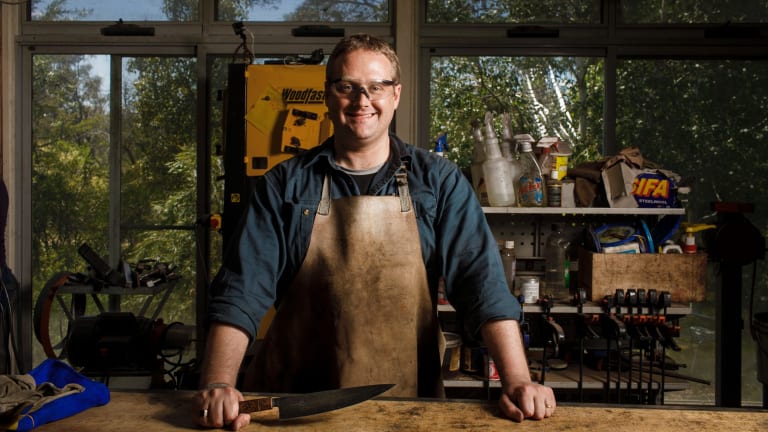 Mr Toogood was medically discharged from the army suffering post-traumatic stress.
He joined the Army Reserves as a keen 17-year-old college student. His first deployment was to East Timor as an aircraft refuelling point commander. From there, he went on to become a linguist, fluent in Indonesian, Timorese and Arabic and was deployed to Iraq.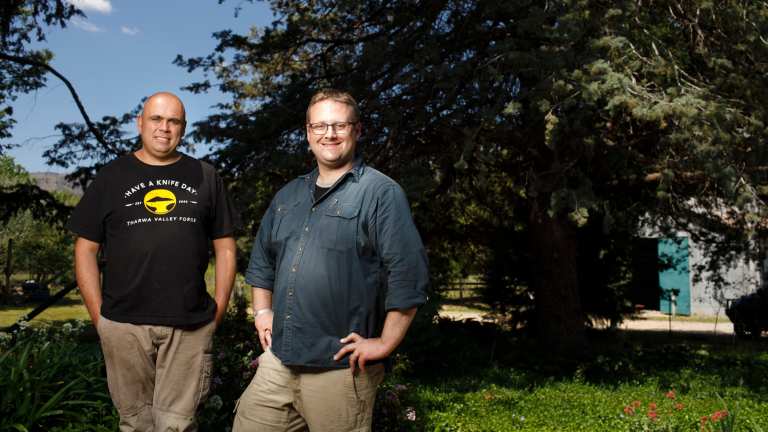 "I got crook [with post-traumatic stress]. I got home from Iraq and I was medically discharged," Mr Toogood said.
"It's tricky to talk about. One part of it is there is a security overlay, because my job was relatively sensitive. The other part is I just don't have the language to talk about it. It's not the traditional seeing bits and pieces of people and that sort of thing. It's awful stuff, but it's really hard to explain how I was exposed and the impact of that, which made it hard for me to get better as well."
Mr Toogood considers himself fortunate to have found art therapy as an outlet that helped him through.
Going through the rehabilitation scheme, it took Mr Toogood six years to get back into work. He initially worked in veterans employment before "falling over" with post-traumatic stress again. It was then that his wife bought him a gift voucher for Tharwa Valley Forge. During the two-and-a-half day program, Mr Toogood made two artisan knives and fell in love with the experience.
"I thought this was fantastic and that people like me could really get something out of this."
He volunteered with the Forge's owner, Karim Haddad, for six months, and started paid employment in August.
"Equal best job I've ever had, equal to being a corporal in the Army," Mr Toogood said.
Mr Toogood and Mr Haddad came up with a grant proposal to put to Department of Veterans Affairs.
Tharwa Valley Forge was awarded $58,000 to run the program, free of charge, for veterans and their families. The money will allow the Forge to run courses including bladesmithing, blacksmithing, archery and bow making, leather work and woodwork.
Mr Haddad said the veterans he'd had doing courses in the past had benefited "tremendously" from the feeling of pride and achievement they got from the bladesmithing experience.
"What we're aiming to do is actually invite them to come away with family, with teenagers, with the spouse, and spend quality time together. When you come back you have that reminder of that amazing quality time together, and every day you're using the kitchen knife or sitting on the chair you made or looking at the chopping board you did. It's a reminder you're worthwhile and that was a great thing to do."
Mr Haddad said one of the greatest challenges returning veterans faced was a perceived loss of trust.
"When they were serving they were responsible for millions of dollars of equipment. They were looking after people's lives every single day. They come home and people say, 'Oh no, you can't touch a knife, you might hurt yourself'."
But Mr Haddad said most people cook with or use a knife every day.
"If you can show that there is trust there, the person has a much better sense of self-worth. That knife becomes a symbol of the trust that's placed in you."
Mr Haddad said he ultimately hopes to use the newly purchased Cuppacumbalong homestead as a retreat for veterans and their families travelling from further afield. The initial funding will allow Mr Haddad to run 16 two-day courses free of charge, catering for about 50 people in total.
Kimberley Le Lievre is the Editor of The Sunday Canberra Times