Top award for Canberra palaeontologist
Canberra palaeontologist Ken Campbell has received many accolades in his 50 years as an expert in his field.
But none has thrilled him more than being nominated for the much-prized Raymond C. Moore Medal for Excellence in Palaeontology.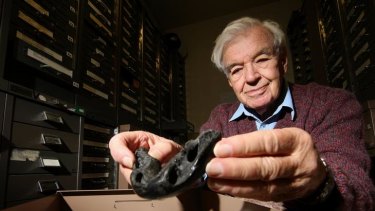 ''You can see the kind words they've said about me, I would have never written that,'' Dr Campbell joked as he showed the email the Society for Sedimentary Geology had sent him.
''I was tremendously pleased with what it said. I had no idea it was going to happen, suddenly out of the blue I got an email and nearly had a fit.''
Dr Campbell is a palaeontologist at the Australian National University and has worked there for 50 years. He was nominated for the award for the breadth and global significance of his research achievements, international collaborations and the exceptional scientific progeny his teachings have spawned. The fossils Dr Campbell works with are 300-400 million years old.
The award ceremony is on Tuesday in Pittsburgh in the United States. Unfortunately, Dr Campbell will not be able to make it - ''My son, who is a GP, said you will definitely not be going over''. The lecturer has recently undergone a few operations, including a hip replacement that make travelling difficult.
Dr Campbell is the first Australian who actually works in Australia to have won the award, a fact he is extremely proud of. ''It's nice to have the international recognition for the work that's going on here,'' he said.
This is not the first time Dr Campbell has been recognised for his achievements in palaeontology.
''There are umpteen fossils named after me,'' he said as he tried to remember the name of one of them. Kenichthys campbelli was found in China and named after Dr Campbell in 2004.