University of Canberra partners with Legal Aid for twice-weekly clinic
University of Canberra students battling dodgy landlords, employment issues or the immigration system will have greater access to legal assistance thanks to a partnership with Legal Aid ACT.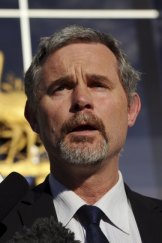 Legal Aid lawyers will host clinics at the university's Bruce campus on Tuesdays and Thursdays in an initiative aimed at improving student, staff and the Belconnen community's access to legal assistance.
About 25 people have attended clinics since Legal Aid ACT first set up shop at the university in March, with issues raised relating to family law, employment, sexual assault, migration and visa issues, contractual disputes, debt, and rental and tenancy disputes.
Legal Aid ACT chief executive John Boersig said while there had long been "quite a demand" from University of Canberra and Australian National University students, greater visibility in Bruce would likely ensure people in need would ask for help or advice.
"People are often reticent to go and get help, and particularly young people, they'll put the problem in their bottom drawer or back pocket and then forget about it," Dr Boersig said.
"Having a service that's readily accessible and increasingly not just a physical presence but an electronic presence is going to be crucial in the provision of services."
University of Canberra student life director Scott Pearsall said the partnership would also fit with the institution's latest strategic plan by potentially providing hands-on learning opportunities for law students.
"It's a fairly bold plan but there's been great leadership shown by Legal Aid and shared by the university to try and provide something that is good in many different ways for various parts of our communities," he said.
The free clinics will run during business hours and offer appointments and drop-in services.
Emily Baker is a reporter for the Sunday Canberra Times. She previously reported on education for The Canberra Times.