When it comes to tall buildings in Canberra, is the debate about height or density?
When Isaac Karachepone moved to Canberra a year ago, moving into an inner-city apartment was a no-brainer.
And the fact that the apartment he eventually rented in the New Acton precinct was just a short walk from his place of work was a bonus.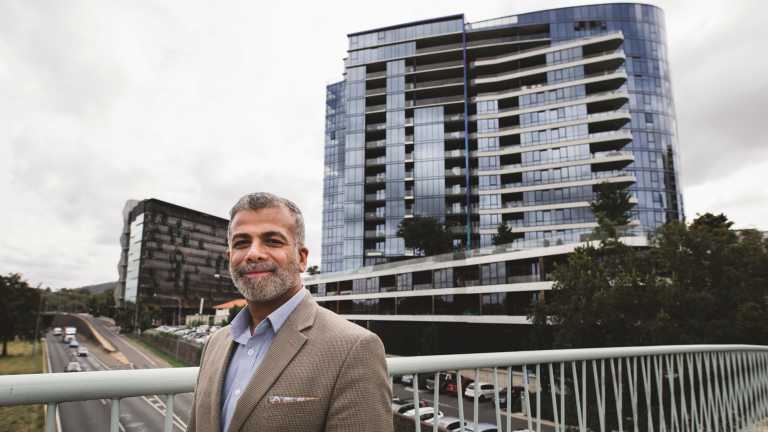 The American chef manages Monster Kitchen and Bar in the Nishi building, and he and his wife Lizabeth are firmly part of the community that is the building they live in.
"The neighbours have very regular coffee meetings, and my wife and I use the gym quite regularly, so we've got to know quite a few of the residents," he says.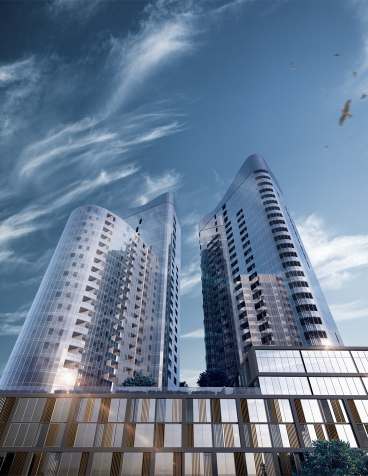 "We have no regrets about living in a two-bedroom place."
And although the 12th-floor apartment with northern views of Black Mountain costs more to rent than the couple initially budgeted for, he says they have saved more through running just one car - Lizabeth works on the south side - and walking almost everywhere else.
It's a lifestyle more and more Canberrans will soon be adopting, as planning laws around building heights are relaxed and urban renewal looks ever skyward.
We are about to get the tallest building Canberra has ever seen, a 113-metre tower in three buildings that will dominate Belconnen's skyline.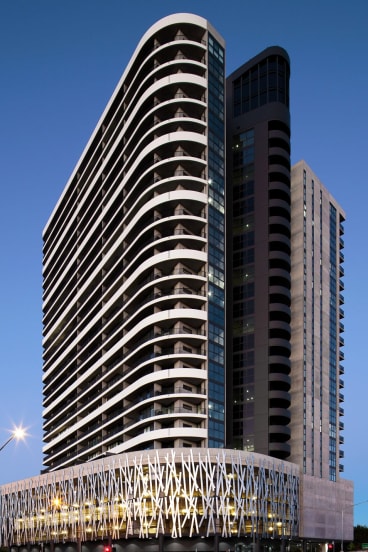 In fact, we're about to get a skyline, something not normally associated with what has long been considered a low-rise city. It hasn't been built yet, but the Republic - Geocon's recently approved Belconnen development - represents a crossroads for Canberra.
Ours is a city that is being built in layers, green and suburban on the outer edges, and more and more spiky the closer you get to the centre. But while there's an acknowledged gap between single, detached suburban dwellings and small apartments in the town centres, it's these spikes - the apartment blocks and high-rises - that often cause the most consternation.
The newest layers now involve urban renewal - the revival of town centres, and the reconsideration of suburbs whose broad streets and established trees could be enjoyed by more people.
Inevitably, this means building up, instead of out.
Most complaints about tall buildings involve unwelcome shadows, unpleasant wind tunnels, a distorting of proportion, a diminishing of community. There is also the spectre of Grenfell-style housing estates, the height equalling disadvantage or undesirability.
But for the city's planners, developers and architects, these are all niggling complaints that seem to be more about a fear of change. And if any of these fears are realised, it will be because of bad planning and bad design, rather than a lack of concern for the quality of life in the territory.
Malcolm Snow, the head of the City Renewal Authority, says any aversion to tall buildings is tied to Canberra's evolution, and the way the city has changed over time. The debate is about density, rather than height.
"I don't think you could say Canberra was conceived as a low-rise city, but certainly given our location - we are a regional city, we are a city in the bush, so to speak - people have got used to the idea of the city not growing that fast, but growing, and remaining pretty low-rise," he says.
"Fast forward to today, 2018, where like many other cities, Canberra faces the hard choices about the type of city it wants to be in the future. The concept of land being this limitless resource that we can keep on consuming ad infinitum, in some cases good agricultural land, does have a finite point to it."
Those who oppose high-rise buildings, he says, are often driven by self-interest.
"Good planning understands where height is appropriate and where height is inappropriate, and so possibly those whose automatic default setting is to say height is bad, I think miss the point," he says.
"This is not about self-interest, this is about the broader public interest in the way in which we actually want to plan and create a city that actually ensures that the benefits of distributing growth have actually been realised…
"We cannot have a city where we take this dominant preservationist view about everything. Cities are constantly changing, constantly evolving to their circumstances. The circumstances we find ourselves in in the city are increasingly likely to become the circumstances that larger cities are facing."
For David Sutherland of Fender Katsalidis, the architects behind Nishi and the New Acton precinct, height is little more than an abstract concept when it comes to building vibrant, environmentally sustainable communities.
"Urban densification is the simplest, cheapest, most effective way of achieving environmental sustainability, because they generally have apartments, and apartments are smaller than houses," he says.
"You generally put them in places where people will congregate, so people can walk, rather than drive. So if you can live smaller, live closer and drive less, that is the biggest impact and biggest improvement we can make on environmental sustainability."
Developer John Hindmarsh has long battled opponents of high-rise, particularly around Woden, where his company is developing a large tract of land. Having battled to build even above 10 storeys in the past, he says the argument that a high-rise will "ruin" someone's view is ludicrous, especially as the most common alternative is to build something longer and lower, that will block out even more of the horizon.
"The big deal is anything that's high is bad, which is just nonsense. Anything that's high means you've got a lot more space behind it," he says.
"If we build long, flat buildings, you can't see anything, particularly four-storey buildings, or even three-storey buildings. It blocks out the horizon. Tall, relatively slender buildings give you a view - you can look past them and you can see the landscape behind them. But everyone here seems to have a terrible aversion to anything that they consider high-rise. And 10 storeys is hardly high-rise."
Both Sutherland and Snow point out that European metropoles like Paris and Barcelona - low-rise across the board but still densely populated - are often evoked in this debate, but say that at some point we have to accept that Canberra is running its own race.
"We're from the new world and we're conceived through that kind of lens, but we can still create a much more interesting, diverse and even equitable city by building up to those sort of height limits without the need to go excessively high," Snow says.
Australian National University academic Meetu Sharma Saxena, who is using Canberra as her case study in a PhD on historic urban landscapes, is more worried about the types of communities these "mixed-use" buildings and precincts will create, or whether they'll create any sort of community at all.
She migrated with her family to Canberra eight years ago, via her hometown of Delhi in India, and a stint in Dubai. Both cities offered high-rise living that catered to the types of people who lived in them, rather than the other way around.
"There's a completely different way of setting those high-rises up. They are gated communities, people have that sense of security," she says.
"They're cooperative group housing societies, which is where blocks of land are developed by people who are within a similar organisation or they have a similar kind of financial or social background. They all come and live together, so that develops a sense of community because you can relate to the people who are living with you."
And such communities arise within the context of the surroundings - highly populated metropoles, and regional centres of commerce and culture. Not, in other words, Canberra.
"Essentially, I believe that the housing solution has to be a response to the context of a place," she says.
In cities like Singapore, Hong Kong or New York, there have been "centuries of cultural sensitisation to the fact that they don't have enough land and there need to be compromises made. It's an inbuilt programming of the person who lives in those cities, and their entire lifestyle kind of organises itself with that in mind, and it's in response to their local resources and local context."
In some ways, it looks to her, an outsider, like Canberra is trying to manufacture density the other way around.
"There's a tension in the urban fabric, and the [proposed] highrises are a result of that tension," she says. "Do we need to artificially impose that, or does our society need more densification in the suburbs, so that they are closer knit, and we are not destroying the entire landscape of the city?"
Sally Pryor is a reporter at The Canberra Times.