Women rise in ACT Labor following election
The rise of women in the Labor Party is continuing, making up 50 per cent of the newly elected ACT members.
Chief Minister Katy Gallagher says the swing towards female representation – with Yvette Berry joining Joy Burch, Mary Porter and herself as elected Labor members – is a positive step for the party.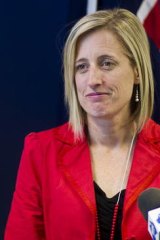 ''I think it is a great result for Labor, which has always had a pretty strong affirmative action agenda,'' she said earlier today.
''I can't recall another caucus when it would have been 50 per cent women. I think it is probably a first.''
However the swing towards female candidates failed to resonate throughout the entire election, because Greens members Meredith Hunter, Amanda Bresnan and Caroline Le Couteur lost their seats last week.
With Giulia Jones joining Vicki Dunne in the Liberals, the overall number of women that will be represented in the ACT Legislative Assembly has dropped.
''We actually have less women in the assembly now than we did in the previous assembly, when we had seven out of 17,'' Ms Gallagher said.
''On that front, we've taken a step backwards.''