Yarralumla development plans hit a brick wall
The ACT government is being forced to rethink its development plans for the historic Yarralumla brickworks after more heritage protection was confirmed this week for the site.
The remnants of the railway at the old works, which was used to transport millions of bricks to building sites around the capital in the city's early days, have now been added to the territory's official heritage register. The greater brickworks complex has been heritage-protected since 2001.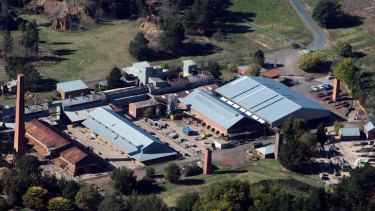 Plans for a $94 million ''national treasure'' for cultural exhibitions at the site and a medium-density residential development housing up to 4000 people have been on the table since 2010. The government's Land Development Agency (LDA) was in the process of developing a commercial feasibility study for the scheme when it was told that original railway embankment, cuttings and terraces had been given full heritage listing after a three-year process.
LDA chief executive David Dawes confirmed the agency unsuccessfully opposed the full listing of the railway remnants, arguing they were not of territory-wide cultural significance.
''The LDA was aware of the provisional registration and had provided a submission to the Heritage Council in November 2012,'' Mr Dawes said.
''This submission was based on the assessment of its heritage consultant, Lovell Chen, who considered that the railway remnants were not significant at a territory level.''
Mr Dawes said the agency would now have to consider the implications of the new heritage listing for its plans.
''The LDA is now undertaking a more detailed commercial feasibility analysis for the precinct and is considering a range of options, including the conservation and adaptive reuse of heritage elements,'' he said.
''Given today's confirmation of the railway's listing on the Heritage Council register, the LDA will now consider the registration's
implications for the range of options being considered for the Canberra brickworks site.''
From 1923 until 1927, bricks were transported from the brickworks by rail across the city to major early Canberra developments like Old Parliament House and the Hotel Canberra.
The railway ceased operation in 1927 and the remnants of the embankment, cuttings and terraces were found by the government's heritage unit to be important evidence of the process by which bricks used in the construction and development of the new city were transported.
Also included on the heritage register was a rock formation on the Molonglo River near Coppins Crossing.
The lower Molonglo geological site is an outcrop of limestone that contains evidence of marine fossils as old as 450 million years and is known as one of the most significant sites of its kind in eastern Australia.