Young boy who cares for his disabled mum chosen to turn the lights on for Enlighten Festival
A young carer who runs the household for his ill mother has been chosen to turn on the lights for the Enlighten Festival on Friday night.
Dylan Joe, 13, a year eight student at Daramalan College will light up the Parliamentary Triangle with the flick of switch from the steps of the National Library at 8pm on Friday, officially launching the 16-night festival.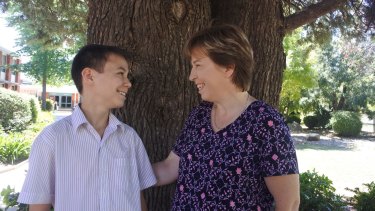 The teenager was selected for the honour in a competition run by ActewAGL.
He was nominated by his mum Jill Pareezer, who has a range of disabilities including constant chronic pain as the result of a work injury.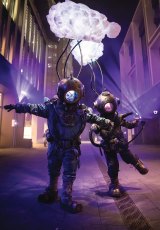 "That happened when Dylan was six so it's really all he's known," she said.
Jill said since her two older children had left home, it was down to Dylan to help his mum.
She had an NDIS-appointed support worker come in four times a week, but there was plenty left for Dylan to do including cooking, cleaning and doing the laundry for his mum.
"He's had to get himself off to school since year four. So he's up and getting his lunch and getting out of the house on his own," Jill said.
"After school, I am usually in a lot of pain so that's when I especially need his help. It's been especially hard the last six months."
He also won dinner for four at Enlighten Alley, a family ride on the Enlighten train and four tickets to Twilight on the Savannah at the National Zoo & Aquarium Canberra.
The teenager, who was "overwhelmed" by the attention, loves playing video games and has just joined the Air Force cadets.
Dylan said his mum was "fun" and they loved "going to places" together. Enlighten was a favourite.
"We try to go to these things. The other thing about being a young carer is that there is a financial burden with everything," Jill said.
"Canberra has such wonderful events that if we plan ahead we will try to go to them."
Jill said Daramalan College had also been a great support to the family.
"They've been great," she said.
ActewAGL general manager retail Ayesha Razzaq said it was thrilled to give the VIP treatment to such a deserving young Canberran.
"It is important for us to recognise those in our community who are doing wonderful things unnoticed. For this competition we asked local families to tell us in 25 words or less why their child should be the one to switch on Enlighten," she said.
"Dylan was nominated by his mother Jill for his continuing and unwavering support as her disability carer. Dylan takes this responsibility in his stride and it is amazing to be able to give him and his mother a great experience to share together".
The public is encouraged to head to the National Library from 6.30pm for '60s music, a kids' disco and art and craft stations marking its 50th birthday ahead of the Enlighten switch on ceremony.
Megan Doherty is a reporter for The Canberra Times