The sissies have taken over FIFA. Look at how they are treating poor Suarez - they won't even use his first name. He is a fine manly, aggressive male, loaded with that wonderful quality that half the teams in the country are trying to find substances to enhance. Why, our universities are producing people with specialist degrees so that they can improve performance among young men with limited education, who are delighted to be treated by someone flashing a university parchment that contains the word Science incongruously attached to the word Sports.
Readers of these occasional ruminations may well murmur into their single malt that I am back on my knock-kneed hobby horse about the misuse of the word science. I did complain a few weeks ago about how Economics and Politics had tried to buy respectability for their imprecise ramblings by attaching the word Science to their dark arts. But these pale beside the oxymoron Sports Science.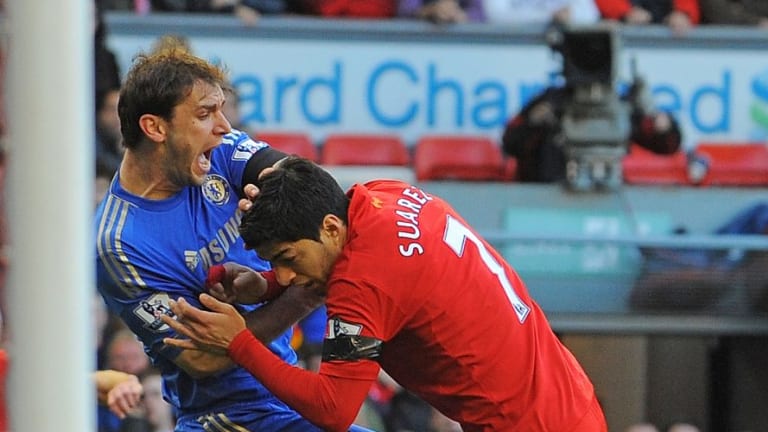 But to come back again to Mr Suarez. Throughout the thousands of years of human history the male of our species, much to the delight of those of the alternative gender, has used his teeth to express himself and, in many cases, including Luis', to earn a living and feed his family. Now we have a new breed of softies, fed on fat-free milk and prepackaged foods, stripped of the God-given nutrients that traditionally push the male to proud maturity and performance, making rules about when and where a man can use his teeth.
There are vibrant African cultures where, if a man's teeth fall out with obvious unpretty consequences, he is shunned as pitiable by the local villagers, especially the women. These places do not have dentists to deal with this ugliness, such professionals being too busy calling themselves doctors and making fortunes in the developed world.
Which raises the question of whatever happened to love bites, or what we used to call hickies. You would see girls in various corners of the school grounds pulling down their sweaters to show off their conquest from the night before. Hickies had real standing. Men, of course, did not show off their love bites, even those administered by other men. And that last thought raises the possibility that Mr Suarez may have merely been indicating affection for his opponent.
Anyway, it is a bit rich to have Italians kicking up such a fuss. They have become so soft and effeminate that the Holy Spirit who had been happy to choose one of their number as pope for almost 2000 years, had to abandon the country and go to South America to find the latest one. And even he has excommunicated half the southern part of the country because the men there speak like Marlon Brando.
The only war the Italians ever won was against the hungry Ethiopians more than 70 years ago. The accepted historical perspective is that if enough Irish missionaries had gone to Ethiopia and introduced them to cheap porridge made from Flahavans Oatlets, they would have chased the Italians back to Sardinia.
As for the English media kicking up a fuss, anyone following the Cup will realise that this was all to do with the two goals that Luis scored against them, sending their millionaires home to prepare for the next League season, a competition in which they have a much greater interest. It is easy to understand the journalists' pique at missing out on all the lovely stories they could have written if they were able to tap into the phones of players and wags as they have always done.
Anyway, why make a big deal about a shoulder bite? There are games in more advanced parts of the world where teams hire wrestling coaches to cross-pollinate their sport and show the players how to really hurt their opponent. There have been occasions where players were tossed on their heads with some force, resulting in only a mild reprimand from the authorities.
There is even a game in which eight men from each team bang their heads against their opponents while others put their hands between their teammates' legs, all with the approval of the crowd. For all we know, they may have sports scientists who are hired to teach them how to do this properly. Don't get me started on sports science.
Meanwhile, all Luis did was to take a little nibble and it was clear from his subsequent reaction that it hurt him more than it hurt his opponent who went around like a cry baby showing everyone where the pain was. "He bit me, Mummy. He bit me."
Frank O'Shea is a Melbourne writer.
Morning & Afternoon Newsletter
Delivered Mon–Fri.