Greens leader Shane Rattenbury has acknowledged the ACT's poker machine trading scheme has not worked as planned, as the party voted with Labor to extend by another year a deadline that would have forced clubs to surrender some machines.
However, ACT Gambling Minister Gordon Ramsay plans to introduce separate new legislation before then to ensure there are only 4000 poker machines in Canberra.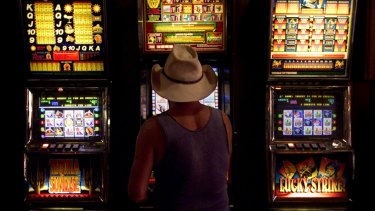 Legislation to extend the trading machine scheme, which had been meant to finish in August, and to create a panel to advise on the casino's bid to gain poker machines, passed the ACT's parliament on Tuesday.
Only 38 machines have been surrendered since the scheme began in 2015, despite a goal of cutting the number of authorisations by 1000 by 2020.
Under the original scheme, clubs would have been forced to begin surrendering poker machines from August, in order to meet the cap of 15 machines per 1000 residents.
Since then, casino owner Aquis has been given permission to operate up to 200 poker machines as well as 60 fully-automated table games in exhange for creating a new $300 million casino precinct. However, Aquis recently received an indefinite extension to bring forward the proposal, meaning clubs would have borne the brunt of the compulsory acquisitions.
In supporting the bill, Mr Rattenbury said while the Greens wanted to cut the number of poker machines, they did not want to do so at the expense of community clubs.
"It's fair to say the trading scheme hasn't been as effective as intended," Mr Rattenbury said.
"We have now reached a plateau where very few trades are occurring. In this environment I accept this would have a big economic impact on clubs if the government were to simply forfeit the remaining 900 or so authorisations to get down to 4000 machines."
He said from his conversations with clubs, many recognised there were too many machines in Canberra and wanted to be "part of the solution".
"Therefore I'm hopeful that the review Neville Stevens is undertaking will provide an outcome that will take us to 4000 machines and actually helps clubs to find alternative, more sustainable revenue streams," Mr Rattenbury said.
Mr Ramsay said the government would consider the diversification report soon.
He wanted to make amendments before then that would "remove the ratio and provide new provisions about the pathway to 4000 [authorised poker machines]".
The Canberra Liberals voted against Tuesday's legislation saying the panel looking at the casino's bid would have ICAC-like powers and would be another barrier to the casino redevelopment.
Opposition gambling spokesman Mark Parton said the bill gave the three-person panel powers to compel people to provide information and give informants immunity from civil liability.
"I'm not sure this represents value for money or that it will provide the solutions to the problems the minister can't seem to find. In terms of functional efficiency we would have to ask why can't this sort of body be stood up inside the Gambling and Racing Commission itself?" Mr Parton said.
While the legislation provided "a comprehensive set of controls, checks and balances, they are at the expense of organisation fragmentation and costs incurred in creating an additional source of advice for ministerial decision-making". It also appeared likely to deter Aquis from investing in Canberra.
Mr Ramsay said the Liberals were voting against "transparency and integrity" by opposing the bill.
Mr Rattenbury said the panel would dispel any questions about the government's motivations in granting extra poker machine licences.
"As long as the ACT government continues to receive revenue through poker machines taxes, the government regardless of its political persuasion will always have an interest in providing more poker machine licences," Mr Rattenbury said.
"Of course that interest is usually counteracted with a desire to reduce gambling harm in the community. Nevertheless the government's motivation and interests in granting authorisations can be brought into question."
Katie Burgess is a reporter for the Canberra Times, covering ACT politics.