American gridiron recruits land at Brumbies HQ for taste of Super Rugby life
Malon Al-Jiboori's Arabic heritage and gridiron background hardly make him fit into the mould of a traditional rugby union recruit.
But his hulking 190-centimetre and 108-kilogram frame, coupled with speed that almost matches the fastest forward at the ACT Brumbies, has made coaches sit up and take notice.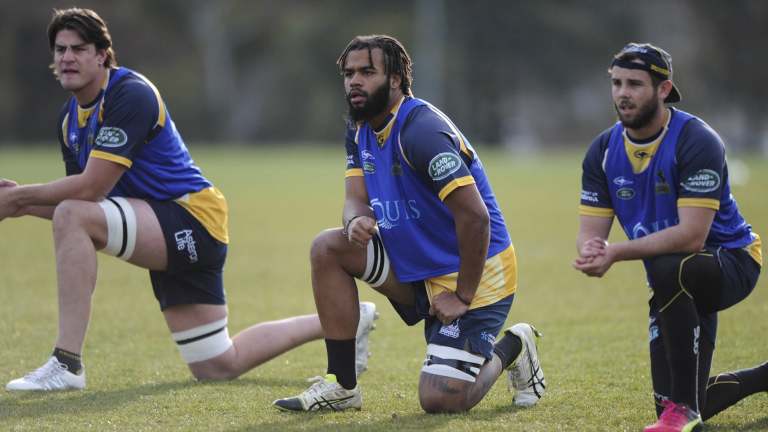 Al-Jiboori is part of an eclectic training group at Brumbies headquarters, joining forces from different corners of the world to try to improve their game and chase their rugby dreams.
Al-Jiboori, 19, grew up in Tulsa, Oklahoma, in the United States dreaming of playing in the NFL after spending his childhood playing gridiron and being granted a college scholarship.
But watching one of his older brothers bash into players with no pads changed what he wanted to do with his life, and it led him down a path to the USA under-20s and the Uni-Norths Owls colts, second grade and John I Dent Cup teams in Canberra.
"We're off school at the moment and there was the chance to come down here and play footy for two months," Al-Jiboori said.
"It's rugby all I day … that's all I want. I started playing when I was 16, my older brother played in his senior year and I went to watch. I started playing myself the next day.
"I played gridiron my whole life as a defensive end, but I always wanted to play both sides of the field. In rugby, I get that.
"I was committed to going to college to play [gridiron] on a scholarship, but at the last minute I decided rugby is what I wanted so I cancelled the scholarship.
"You get to travel the world playing rugby, you can't do that playing football. My family think I'm a little crazy because I just quit football and that's what I grew up doing, so they're a little weird about it but they're used to it.
"Rugby can take you places. I never pictured going to Africa or Australia in my life. Rugby changed everything for me, the way I look at life and the way I approach every game as my last."
Al-Jiboori is part of the Lindenwood College rugby system in Colorado and is on the radar of the USA Eagles.
The powerful back-rower is one of five project players training with the Brumbies as part of the Super Rugby club's annual commercial academy elite player development program.
In recent years the Brumbies have had players and coaches from Japanese clubs Kubota, Suntory, Kobe, Meiji and Ricoh in the program and are in the initial stages of forming a relationship with the US.
The Brumbies are about to go on another tour of the US to Maryland and Minnesota in August and September to conduct advanced coaching courses and a player development camp to identify talent.
Al-Jiboori grew up in Tulsa with prop Chance Wenglewski and both are soaking up the rugby knowledge being thrown their way in the capital, while Wes Parker (Lindenwood) and Japanese prop Tateo Kanai are also part of the training.
They're all playing in the Canberra club competition before returning to the US to resume their college days.
In a crazy twist, Al-Jiboori could be lining up alongside Brumbies and Wallabies flyer Joseph Tomane when the Owls play Wests at ANU North on Saturday, with the Test winger being eased back to action after a knee injury.
Al-Jiboori won't look out of place if his testing in the Brumbies gym is any indication, squatting 190 kilograms earlier this week.
Superstar flanker David Pocock is the fastest forward at the Brumbies, clocking 1.45 seconds over 10 metres. Al-Jiboori ran a 1.6 seconds, while Parker was 1.43 seconds and Wenglewski was 1.52 seconds.
The USA link is becoming a popular path, with Al-Jiboori and co following the footsteps of former Houston Texans tight end Chris Coyle, who still plays with the Gungahlin Eagles and trains at the Brumbies.
"They train with us four days a week and we test them in the gym too. They get a chance to train with the Super Rugby side as well," program manager Nick Leah said.
"We give them individualised programs and they get the chance to train as well, it's great for them and it's great for the program in Canberra as well … and they're testing off the charts."
The Owls are desperate to beat a resurgent Wests in their round-15 clash as they fight to stay in touch with the top four and keep their finals hopes alive with just three games left in the season.
Royals sit in fourth spot, just four points ahead of the Owls, and the defending champions play Queanbeyan in a massive test for their play-off hopes this year.
JOHN I DENT CUP ROUND 15
Saturday: Uni-Norths Owls v Wests at ANU North, 3.05pm; Royals v Queanbeyan Whites at Phillip Oval, 3.05pm; Tuggeranong Vikings v Easts at Viking Park, 3.25pm. Gungahlin Eagles – bye.
Chris Dutton is the sports editor at The Canberra Times.