Lausii Taliauli close to new deal as Henry Speight gets Olympic Games lifeline
Henry Speight's Rio Olympic Games dream is still alive after the ACT Brumbies flyer was included in the Australian sevens squad as a travelling reserve.
Speight will fly to South America with the team on Tuesday after an against-the-odds comeback from a knee injury that threatened to prematurely end his year.
Sevens coach Andy Friend has picked Speight and Tom Kingston as his back-up players for the Olympics as they begin their pursuit of a historic medal.
Most thought Speight's year was over when he injured his knee in June just days after playing his first game since fracturing the bone above his eye in the Brumbies' Super Rugby campaign.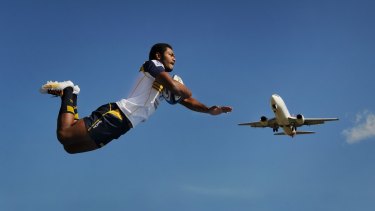 It was a devastating blow for the Wallabies winger, who traded the Brumbies' season for his Olympic bid this year.
But there is a glimmer of hope that Speight will get a chance to achieve what he had his sights on at the start of the year.
Speight will be an important inclusion in the Brumbies' side next year after playing just four games this year.
He watched from Sydney as the Brumbies were knocked out of Super Rugby title contention on Friday night when they lost to the Otago Highlanders 15-9.
His presence will help fill the void left by the departing Joseph Tomane, while Nigel Ah Wong has committed to a new deal and Lausii Taliauli is also on the verge of a new contract.
Taliauli was denied a potential match-winning try against the Highlanders when he barged over with five minutes left when the referee ruled he did not get the ball on the ground despite having half his body over the line.
"I had a pretty slow start to the season and regained my form later on in the year," Taliauli said.
"I feel like I played my best footy at the end, but I'm devastated by the loss against the Highlanders.
"I'm pretty keen to stay with the Brumbies. We're in talks at the moment and we'll see how that goes so we'll find out soon. I just want to keep getting better."
Taliauli was convinced he had scored the try that could have kept the Brumbies' season alive.
"It's heartbreaking stuff, especially when you know you got the ball down and didn't get the call," Taliauli said on Friday night.
"I definitely got it down, I was 100 per cent sure I got the ball down. There was no one's arms underneath the ball when I got up, so I don't know what they were looking at there."
Former Australian sevens player Taliauli will compete with Ah Wong, Robbie Coleman and James Dargaville for a chance to partner Speight on the wing next year.
Ah Wong dedicated the final game of the season to his aunt, Sese, who died in the week before the match.
Sese was the inspiration behind Ah Wong's decision to become a motor neurone disease ambassador this year.
Sese was 63 and diagnosed with the terminal neurological disease three years ago. Ah Wong scribbled her name on his wrist before the knockout final against the Highlanders.
"Been a tough few days for my family and I losing my beautiful Aunty Sese after her long battle with #MND," Ah Wong put on Instagram.
"This game was for her unfortunately the result didn't go our way but really proud to have been a part of @brumbiesrugby this season.
"I look forward to continuing to work with MND Australia to raise awareness and funds to one day find a cure to this cruel disease."
Chris Dutton is the sports editor at The Canberra Times.