ACT Budget 2017: Extra safety inspectors announced for Canberra light rail
Safety standards on Canberra's light rail project are set to receive a boost as part of the upcoming ACT budget.
The ACT government announced an extra three WorkSafe inspectors will be employed to carry out safety inspections on construction sites for the transport project.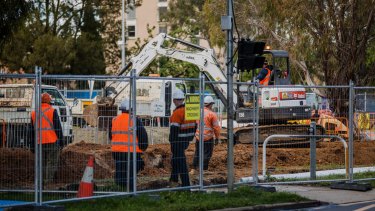 The announcement comes after a union inspection on Friday revealed several safety flaws at the site, with water crash barriers not being filled and signs from previous traffic management plans not being removed.
Two workers were also sent home following Friday's inspection by members of the CFMEU, after not being properly inducted to safety procedures.
Since work began on the transport project last year, figures from WorkSafe ACT show two workers have been injured while on the construction site.
The additional inspectors will be assessing the safety standards for workers as construction work increases ahead of the line's opening in 2019.
Funding for the positions will cost $715,000 over three years, with three inspectors being covered in the upcoming financial year, two during 2018-19 and one in 2019-20.
Currently, construction sites are monitored using existing resources within WorkSafe.
Transport Minister Meegan Fitzharris said the extra inspectors will be critical to maintain worker safety on the territory's largest infrastructure project.
"The network will transform our city, and we want to ensure the work is completed as safely as possible for the workers involved and the community," she said.
"The light rail project is the biggest infrastructure project in the ACT's history and will support hundreds of jobs during the construction phase."
One of the workers was injured while working on the light rail in December last year after he was thrown two metres following an electric shock and was taken to hospital.
A WorkSafe ACT spokeswoman said another worker suffered minor bruising as a result of an on-site incident.
"An additional incident related to a traffic barrier was also reported," the spokeswoman said.
One of the workers was away from work for two days due to injuries.
As well as WorkSafe inspectors, inspections at light rail sites are also carried out by Comcare inspectors.
The spokeswoman said there were multiple safety measures in place at the construction sites for the transport project to prevent on-site injuries or fatalities.
"WorkSafe has an extensive audit program that involves a strong proactive approach to safety and the prevention of injury on work sites," the spokeswoman said.
"WorkSafe continues to work co-operatively with Canberra Metro and Transport Canberra and City Services around safety and workplace injury prevention."
Andrew Brown is a journalist at the Sunday Canberra Times. Andrew has worked at the Canberra Times since 2016.