We brought you the platforms of the major parties vying for your votes on Saturday. Now we bring you the policies of the smaller parties hoping to pry your vote away from the big three.
Minor parties offer voters an alternative to the major parties, but they also offer a cache of policies they, in all probability, will never be called on to deliver.
Of the 141 candidates standing for election into the ACT Legislative Assembly this year, about two in five are from one of the six minor parties in contention.
The expansion of the assembly and the loss of the ACT's only seven-seat electorate make it more difficult for independents and minors to get the quota they need to win a seat (more on how the ACT's voting system works here) but it hasn't stopped them from trying their darnedest.
We've cherry-picked their best policies for your reading pleasure. Of course, if none of these parties float your boat, you've still got the option of voting for the 17 independents who are also standing.
Liberal Democrats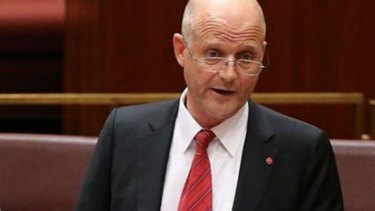 Despite their party name inferring some kind of unholy matrimony between the Liberals and the Democrats, the Liberal Democrats standing for election in the ACT want you to know they have nothing to do with the Canberra Liberals.
So much so, their candidate for Murrumbidgee, Roman Gowor, proffered the Canberra Libs should change their name to the 'Conservative Party' to reflect their "ideological platform".
The party that brought you David Leyonhjelm promises to bring you a freeze on rates for the next term of assembly, support variable speed limits on major roads and abolish roadside drug testing.
They also want to open up the ACT's national parks to more fishers, 4WD enthusiasts, mountain bikers, horse riders, cross-country skiers and hikers and believe in same-sex marriage, euthanasia and legalising marijuana.
Sustainable Australia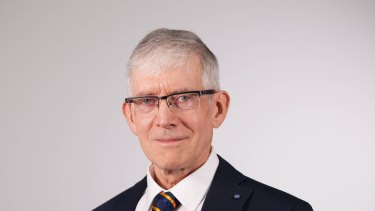 This party wants you to know they are about more than just stopping overdevelopment and saving trees. They also want to lower rates by stopping the ACT government from trying to bring in more taxpayers.
Confused? So am I. Here it is in their words:
"By slowing population growth, we relieve the ACT of the need to build and/or retro-fit so much budget-breaking complex infrastructure – like ever more trams, hospitals and schools. This budget relief will achieve lower rates than would otherwise be the case," they said.
To do this, they want the ACT to scrap its policies aiming for a population of 800,000 in 2050. Instead, they'd like to hold a community forum to land on a more "democratic" population figure.
For people who aren't opposed to doubling our population in 35 years, also on their agenda is banning property developer donations to political parties, increasing taxes on foreign purchases of land and housing and seeking better representation in both the House of Representatives and Senate in Federal Parliament.
Like Canberra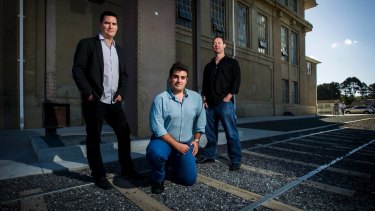 This party prides itself on having no career politicians although they might have to review that should any of its candidates actually make it into the assembly.
They also want you to know they're about more than just a really fast train, hence the name change from the Bullet Train for Canberra party.
Most notably, Like Canberra is proposing the ACT government waive one parking fine per year for people who stay too long in ACT government car parks.
The party is also big on transparency, and is calling for an ACT Independent Commission Against Corruption. They want to fund the independent commission by canning the $300,000-a-year position of international engagement commissioner given to former Liberal Brendan Smyth.
And they'd like a really fast train too please.
Animal Justice Party
The only minor party to campaign flanked by their furry friends, the Animal Justice Party wants to establish an Office of Animal Welfare and strengthen animal cruelty and neglect penalties in the ACT.
They also want to put an end to kangaroo culls and greyhound racing, teach kids about animal welfare in school and acknowledge animals' sentience in ACT animal welfare legislation.
Australian Sex Party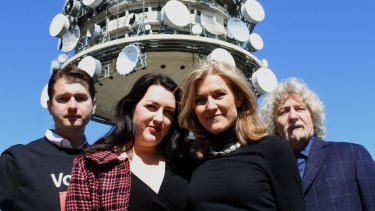 Guaranteed to pull a few votes purely because it has the word 'sex' in its party name, they're civil libertarians but with a far catchier moniker than the Liberal Democrats.
The Australian Sex Party wants to bring back fireworks, legalise cannabis for recreational use and tax the church.
They also want to build a speedway and, inexplicably, demolish that giant phallic symbol on Canberra's vista and replace it with a cable car.
Community Alliance Party
This party also seems super into population sustainability, but seeing as Sustainable Australia was already taken, Community Alliance Party it is!
Among their policies are supporting the right of owners of demolished 'Mr Fluffy' houses to repurchase their land significantly below the market rate, opening a short-stay park for "Grey Nomads" (baby boomers with caravans) near Tidbinbilla so they can enjoy the areas natural beauty and training ACT residents up to fill gaps in the job market rather than importing skilled workers.
Katie Burgess is a reporter for the Canberra Times, covering ACT politics.