ACT supermarket goes into liquidation as retailers call for certainty
Another Canberra supermarket has gone into liquidation while the capital's business heavyweights call for an early federal election date to stop the continued uncertainty crippling the local economy.
The owner of the SPAR supermarket at Holt, Jostelm Pty Ltd, went into liquidation on Friday owing $2.7 million, according to its administrator.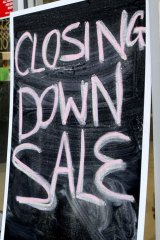 The latest liquidation bolsters the territory's position as the nation's capital for business failure, with Australian Bureau of Statistics figures showing only 59 per cent of enterprises started in 2008 had survived until 2012.
Frank Lo Pilato, from insolvency management company RSM Bird Cameron, said much of the $2.7 million debt would not be repaid.
''We're going to try to sell [the supermarket] as a going concern,'' Mr Lo Pilato said.
He said the company had been unable to refinance to keep up with the debt.
The company's ownership of another supermarket, SUPA IGA at Cooma, had caused major financial problems.
Jostelm director Joseph Fallace did not comment on Friday because he wanted time to assess the situation. Earlier this year the Foodworks supermarket at Higgins closed and was unable to pay much of the $850,000 it owed to creditors, according to Tony Lane from insolvency practitioner Kazar Slaven.
Liquidators have reported an increase in the number of insolvencies across the Canberra retail and construction sectors and business observers blame much of it on the drawn out election campaign started on the last day of January.
ACT and Region Chamber of Commerce and Industry chief Andrew Blyth said: ''Call the election now.''
Mr Blyth said he was about to approach the ACT Government to ask it to do more, including a radical suggestion for the government to attract private enterprises to the ACT by funding them.
It follows an opinion piece he wrote for The Canberra Times on Friday which complained tourism spending outweighed business development spending in the ACT by a ratio of four to one.
Troubled retailers in recent months have included Ziggys Market Fresh inside Westfield Belconnen, which closed owing $200,000 in rent which could not be paid back, according to its administrator Stephen Hundy from Worrells Solvency and Forensic Accountants.
This business was a separate entity to the Ziggys fruit stores elsewhere in Canberra.
Majura Bakery Pty Ltd went into liquidation last month owing between $100,000 and $130,000, according to its liquidator, Tony Lane.
Canberra Business Council chief executive Chris Faulks agreed political uncertainty was the major factor at play in the territory economy and it was not helped by downturns in China and the United States as well as the rise of online buying hurting retail and the impact of shopping centres on shops outside the malls.
A spokesman for ACT Economic Development Minister Andrew Barr said the government's new website, InvestACT, will help facilitate and respond quickly to potential business opportunities across key government agencies.
Also, he said the Business Development Strategy unveiled a year ago contained numerous initiatives to support the ACT's private sector.
This included reducing red tape, simplifying and lowering taxes, encouraging business innovation, and encouraging growth in the business sectors in which the ACT excels, notably knowledge-based fields.