ANU denies demolition plans for Bruce Hall student accommodation
The Australian National University denies it has plans to demolish the university's oldest undergraduate residential college Bruce Hall as it moves to redevelop the 55-year-old complex to expand the university's student accommodation.
In March, Vice-Chancellor Brian Schmidt said the university was exploring an opportunity "to design and build a new Bruce Hall", intended to open in 2018, when he announced a "separate" initiative to seek private investors to meet growing demand for student accommodation.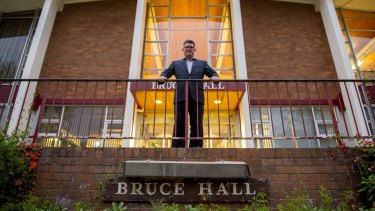 Several alumni of the college told The Canberra Times they understood there was a proposal to demolish the 240-bed catered on-campus college and replace it with an 800-bed facility.
The self-catered Packard Wing built in 2004 would remain.
The ex-students fear the history of the complex, which was Australia's first mixed university hall of residence, and the intimate family-like experience they enjoyed during their time at the college will be lost with a new "sanitised" facility.
But an ANU spokesman denied a decision to bulldoze the complex had been made and said a forum for alumni on Thursday, hosted by Professor Schmidt, was part of consultations about its future after a survey of 4800 residential students last year found a pressing need to upgrade existing facilities and build more student accommodation.
Bruce Hall's heritage value was rated "high" in an inventory from 2012 on the ANU website which recommended a heritage impact assessment and photographic recording be undertaken "prior to any potential loss of significant fabric, buildings or landscaping in any future development".
Allan Connelly-Hansen, who was a resident at the college in 1987 and a "pseudo-resident" for six years, was dismayed at the plans.
"We feel a complete demolition would be removing a considerable history, not just of ourselves, but all the others," he said.
He said he and former alumni were so passionate about their links to the college a group of about 10 fellow students had the college's emblem the uroboros, a dragon devouring its own tail, tattooed on their hips.
Another former resident Pete Harrison, who lived at Bruce Hall for four years from 1984, was part of a contingent travelling from Sydney for the forum on Thursday to speak out against any plans to demolish the complex.
"With the beautiful Sydney University buildings if after 50 years they'd knocked them down to build something bigger… you'd never retain any history or heritage," he said.
Mr Harrison hoped a compromise could be reached where older parts of the complex including its dining hall would be saved and the 'Extension' wing added in the 1970s and potentially the Northern wing were demolished to make way for new multistorey residences.
Mr Schmidt said, in an email to alumni, he wanted more students to live on campus with the "opportunity to have an experience like the one Bruce Hall gave" them.
But Mr Harrison said it would be impossible to replicate with a new larger complex.
Another former resident, who declined to be named, said there was a "great deal of unease" about the hall's future which was an "integral part of the design of the campus".
She said the "grand" dining hall, junior common room and quadrangles were key to the Bruce Hall experience.
She suggested new residences could be built over nearby car parks and said it was understood there were already concept plans for the demolition.
But the ANU spokesman denied plans existed.
ANU's planning and administration executive director Chris Grange was unavailable for an interview, but in a statement said the changes at Bruce Hall were part of future options for accommodation, announced last month.
"We have spoken to our students about the proposals, and we have invited our alumni to participate in a forum on Thursday night so they can also give us their views," he said.