Capital Life: Jane and Amy Dunn's joint show Form in Queanbeyan opens
A round-up of what's happening in the Canberra visual arts scene for the week beginning June 13.
Paperbark at Form
I do love a mother-daughter duo! Jane and Amy Dunn have a lovely-sounding joint show opening this week at Form in Queanbeyan – with two different approaches to the natural landscape. Jane Dunn is preoccupied with the response of the natural world to fire: "The ever-present contrast of blacks, whites and greys found in the charred bush and then the inevitable return of vibrant colour ... My work celebrates the intensity of the colours, particularly in the bark of the trees which survived the fires." Amy Dunn wants to explore the experience of space "via light and movement": "This body of work describes walking as an act of engaging with the space, atmosphere and light around us. I am interested in creating images of space that are dark, ambiguous and unknowable, which evoke a mysterious mood." Paperbark, by Jane Dunn and Amy Dunn, opens at Form Studio and Gallery, 1/30 Aurora Avenue, Queanbeyan, on June 15, and runs until June 29.
Studio 15 at Strathnairn
Strathnairn Arts has a new exhibition of works by its studio holders. It opens this weekend and runs for the rest of the month. Curated by Canberra Times contributor Peter Haynes, the show includes works by Avi Amesbury, G. W. Bot, Jo Hollier, Vivien Lightfoot, Samantha Small and Kensuke Todo, with works across a range of media. Strathnairn Arts has 19 studios scattered on the western fringe of Canberra, and includes a kiln complex, foundry and papermaking facilities. Studio 15 will be opened on Saturday, June 13, at Strathnairn Homestead Gallery, 90 Stockdill Drive, Holt, by Canberra Museum and Gallery director Shane Breynard, and runs until July 5.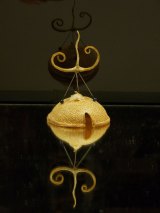 Street Talk and parasites
A coming-of-age story told through the eyes of teenaged refugees – thought-provoking or what? The Street Theatre will be hosting a read-through of F---ing Parasites, a work by award-winning Swedish playwright Ninna Tersman, and a chance to meet the writer herself this weekend: "Forced to flee their homelands with their persecuted parents, Isa and Leo are seeking asylum marooned in an immigration processing centre playing with dirty toys while their parents undergo endless questioning. The kids pass the time by burlesquing the adults in their life – a sorry collection of bored bureaucrats, cloying aid workers, and defeated parents immobilised by despair. Swedish playwright Ninna Tersman movingly depicts this predicament from the point of view of two teenagers as they are forced to deal with the complex issues of immigration, hostility from strangers and lost hope." The work will be read by Isha Menon and Theo de la Paz, at the Street Theatre, 15 Childers Street, Canberra City, on Sunday, June 14, at 3pm. Entry is free but bookings essential: 6247 1223 or thestreet.org.au.
Artistic voices on Anzac
It is the year of Anzac, after all, and next weekend the Quakers are hosting an interactive afternoon of conversations with Australians from theatre, visual arts and music: "Tessa Bremner, theatre and opera director, will draw on her extensive drama experience to highlight ways in which issues of war and peace, especially around Anzac and World War I, have been handled through the spoken word, especially poetry, stage and screen. Anthea Gunn, curator of art at the Australian War Memorial, will discuss the responses of artists to the First World War, especially those on display in the Memorial's First World War Galleries, in reflecting the impact of war on those involved. And Glenda Cloughley, poet-composer and Jungian analyst, will reflect on her community oratorio A Passion for Peace through stories of the people, artworks and events that inspired the turning of a dream into the songs of peace which filled the Albert Hall with 100 passionate Canberra voices during the Centennial Anzac Week." Anzac Conversations will take place on Sunday, June 21, 2pm-5pm at Friends Meeting House, corner of Condamine and Bent Streets, Turner, with refreshments provided. For more information, visit quakers.org.au, or email QPLC@quakers.org.au.
The beautiful Canadian Arctic
Call this cold? This is just early winter in Canberra! To put it in perspective, there's a free photography exhibition just opened at the High Court of Australia, featuring contemporary photographs of the Canadian Arctic from Canadian Geographic Magazine. "[The exhibition] gives a glimpse into the lives of Northerners, and offers perspectives on the environment and activities that help shape and influence the diverse circumpolar region. Through a series of quintessential images of nature and life in the Arctic, Canada's Arctic: Vibrant and Thriving brings the beauty of Canada's North to an Australian audience, and tells the story of how Canada is working with its partners in the Arctic Council to ensure economic and environmental development and sustainability during this time of unprecedented opportunity and growth." Canada's Arctic: Vibrant and Thriving is showing at the High Court of Australia, Parkes Place, Canberra, until July 2.
Three at CCAS
Artist Andy Mullens has a new show at CCAS Manuka that uses photographs, stitch and sculpture to explore her Vietnamese-Australian heritage: "Inspired by a recent trip to Saigon, Mullens employs found objects and old photographs, while reworking the national colours of gold and red. Drawing on the pre-war Vietnamese flag and the Vietnamese "lucky No. 3 Mullens connects family, nationhood and self in her works, reflecting on what it means to experience cultural duality". Three, by Andy Mullens, is showing at Canberra Contemporary Art Space, 19 Furneaux Street, Manuka, until June 21.
Traceries in the bush capital
Local artist Jenny Gibson continues her preoccupation with the Australian bush in her new show, Traceries, now at Belconnen Arts Centre: "This concern is central to her paintings of eucalypts, wattles and grasses on Mount Ainslie after la Nina, as well as to the oils and charcoal drawings of reeds, rock fissures and reflections in Central Australia. Her work emphasises the irregular growth patterns in nature in contrast to the geometry of the built environment of human beings." Traceries, by Jenny Gibson, is showing in the gallery at Belconnen Arts Centre, 118 Emu Bank, Belconnen, until July 5, with a chance to meet the artist on Sunday, June 21 at 3pm.
Frackman the movie
Frackman, an Australian film about ordinary people caught up in a modern-day multinational "gas rush" to secure and exploit coal seam gas, has a special screening at Dendy on Monday night, followed by a Q&A with a special guest panel, including Will Steffan, climate change expert and researcher at the ANU and councillor at the Climate Council; Maria Taylor, author of Climate Change – What Australia Knew and Buried; prominent local activist Emma Pocock; and Steven Bygrave, chief executive of Beyond Zero Emissions. Frackman is showing Monday, June 15, 6.30-8.30pm at Dendy Cinemas, Canberra Centre. Tickets through frackmanthemovie.com or tug.com/events/18929.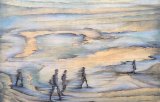 Sally Pryor is a reporter at The Canberra Times.