Child Flight loses its contract
Child Flight, the decades-old helicopter service that has transported hundreds of sick babies and children in and out of the ACT, is facing certain collapse after it failed to keep its contract with the NSW government.
Child Flight says the service to replace it, CareFlight, is not equipped to take over the highly specialised medical retrieval operation, potentially placing children in NSW and the ACT in jeopardy.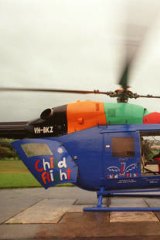 Child Flight will lose the NSW government contract for the Newborn and Paediatric Emergency Transport Service from December 31, effectively spelling the death of the service.
It has flown 309 children from the ACT since 1989, and thousands more from surrounding areas in NSW.
Child Flight had partnered with another organisation to bid for the government contract as the Children's Retrieval Helicopter Service. Child Flight chief executive officer Paul Darling said it was told formally last week it had lost the contract, six weeks before it was to be renewed.
''From our perspective, we have been the service provider for 23 years. We have been the only service provider since inception as a community service provider,'' Mr Darling said. ''The investment we have made over 20-odd years in this service, to shut that down and sell our assets in less than six weeks, putting aside the Christmas period, is just ludicrous.''
Contract winner CareFlight has told The Canberra Times the transition will be seamless, and that it will be ready to start flying from January 1. NSW Ambulance is working with both organisations to make sure there is no disruption to service.
''The Health Department is emphatic that [CareFlight] will commence service on the January 1,'' Mr Darling said. ''But that's not answering the question, will they have the right type of aircraft to provide this service to the standards it's required to be?''
Child Flight had been under financial pressure recently, according to Mr Darling. He said community fund-raising and sponsorship had dried up due to tough economic conditions. That was part of the reason Child Flight sought a partnership with a second organisation.
He called on the government to make the contract public.
Ambulance Service of NSW acting chief executive Ken Pritchard thanked Child Flight for its decades of work.
''NSW Ambulance, on behalf of NSW Health, would like to thank past and present management and staff of Child Flight for providing over 20 years of dedicated service to the children of NSW,'' Mr Pritchard said.